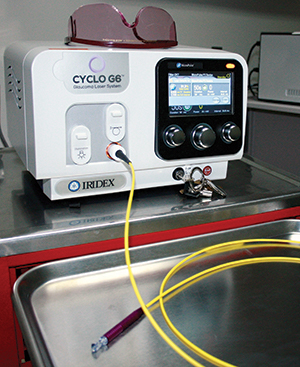 Lloyd VMC Purchases State-of-the-Art Equipment to Treat Glaucoma
We are excited to announce that the Ophthalmology Service recently purchased a novel device to treat glaucoma.
>> Read More
 
---
New Faces at the Lloyd Veterinary Medical Center
This summer and fall at the LVMC have been busy with the addition of several new faculty members.
---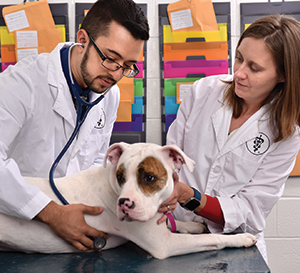 Programs Provides Early Clinical Skills Training
This fall semester first- and second-year students are learning clinical skills and practicing them in the Clinical Skills Laboratory that opened last spring.
>> Read More
 
---
Vet Med Farrier Earns New Certification from UK Farrier Association
In October, the U.K.-based Worshipful Company of Farriers held the examination for Associate-level certification in Lexington, Kentucky. Among the two passing the
certifying examination was Doug Russo, journeyman farrier at the Lloyd Veterinary Medical Center.
>> Read More
 
---
Endoscopy Equipment Purchased
The Iowa State Internal Medicine Service is pleased to announce that, with the addition of new a holmium: YAG laser to our endoscopy services,  we now have the capacity to treat many urinary diseases such as ectopic ureters as well as bladder and urethral stones in a minimally invasive manner. These techniques are applicable
to male and female dogs, as well as female cats.
>> If you believe you have a case that might benefit from a minimally invasive treatment of these conditions, please contact Dr. JS Palerme at (515) 294-4900.
Fall/Winter 2016 Vol 3. No. 2
 
From the Editor
There's a lot going on in the Lloyd Veterinary Medical Center!
We have continued to add new faculty and clinicians that amaze me every day with their enthusiasm, talent, and extraordinary attention to client and patient service. It's tough to keep up with the new ideas that they have; and as far as I'm concerned, it's a good problem to have. Take a look inside this issue to see who's new to the Lloyd VMC!
Additional equipment in the ophthalmology and internal medicine services has enhanced patient treatment. Brief descriptions of the capability of that equipment appears in this issue, too.
One of the important missions of the VMC is to provide students with clinical training. We've instituted new programs in the first- through third-year curriculum that will provide early hands-on training so students will be better prepared for the fourth-year clinical rotations. In the long run, the early training and immersive experience of the fourth year will increase the value of our graduates to practices.
As always, I'm just a phone call away. Please let me know how I can help. And, thank you for referring your patients to our hospital. Your support provides us with the opportunity to train the best veterinarians possible.
Dr. Tom Johnson
Director of Hospital Operations, LVMC
PRODUCTION STAFF
Tracy Ann Raef
Heather Brewer

>> For article inquiries or submissions email: VetPulse@iastate.edu