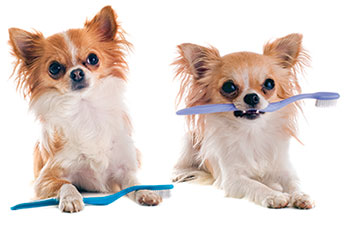 Dentistry and Oral Surgery Service
By Dave Gieseke
Dr. Brenda L. Mulherin, clinician in the Lloyd Veterinary Medical Center, has completed the training requirements of the American Veterinary Dental College and has successfully passed the examination to earn the credentials, Diplomate of the American Veterinary Dental College. She is the only board-certified veterinary dental specialist in the state.
Dr. Mulherin's interests include feline tooth resorptions, endodontic therapies and periodontal disease.
The Lloyd Veterinary Medical Center's Dentistry and Oral Surgery Service offers appointments for new clients on Wednesdays and select Mondays, while recheck appointments are scheduled for Wednesdays, Fridays and select Mondays. Scheduled surgeries are performed on Tuesdays and Thursdays.
More than 85 percent of dogs and cats over the age of three suffer some sort of dental or gum disease. The Dentistry and Oral Surgery Service provides routine preventive dental care including a thorough oral examination, dental cleaning and oral surgery. The state-of-the-art dentistry and oral surgery operatory can provide treatment for broken or fractured teeth, periodontal disease, root canal therapy, restorative procedures, non-invasive jaw fracture repair and oncologic surgery of the oral cavity.
Brenda Mulherin, DVM
Clinician