June 12th - Josh Beck awarded Roy J. Carver Charitable Trust Grant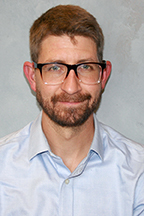 May 3rd - Gradaute College Commencement - 
3 Non-thesis Master's graduates at commencement (L), 3 PhD gradautes at commencement with Dr. Anumantha Kanthasamy and Dr. Arthi Kanthasamy (R)
May 2nd - Richard Martin Named Inaugural Recipient of CVM's Benbrook Chair
April 2018 - Dr. Jinoh Kim, received a grant for  "Novel Mechanisms for Distal Transport in Developing and Mature Neurons," from Sanford Research.
April 11th - Iowa State News Service reports on our state of the art Human Anatomy Lab - Iowa State University anatomy lab is finishing its first year with human donors

March 2018 - Multiple BMS Graduate Students win awards at the Society of Toxicology Conference in San Antonio. We won 14 awards in total! 
(Pictured Dharmin Rokad accepting his award)
Dharmin Rokad, 1st place in the Metals Specialty Section Graduate Student Research Award; 2nd place in Carl C. Smith Specialty Research Award; the Medical Devices Specialty Section Graduate Student Award; 1st place in the Central States Chapter Research Poster Competition; and Honorable Mention in the Molecular and System Biology Specialty Section Research Poster Competition
Bharathi Palanisamy, Seahorse Travel Award
Melanie Abongwa, 3rd place, Emil A. Pfitzer Award in the Drug Discovery Toxicology Specialty Section Postdoc Research Poster Competition
Sireesha Manne, 2nd place, Neuro Toxicology Specialty Section Research Poster Competition
Souvarish Sarkar, Seahorse Travel Award, 3rd place, ImmunoTox Specialty Section; 2nd place, Drug Discovery Specialty Section, Dr. Hariharan Mehendale Graduate Student Best Abstract Award
---