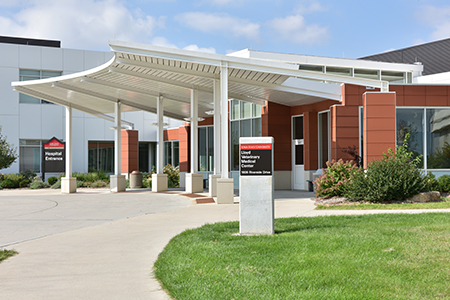 At 105,000 square feet, the $45.1 million Hixson-Lied Small Animal Hospital is one of the largest and newest small animal hospitals in the country. This world-class facility opened less than five years ago and is open 24/7, 365 days a year while providing preventive and specialty care as well as emergency and critical care.
The Hixson-Lied Small Animal Hospital's dedicated staff are committed to providing preventive and advanced veterinary specialty care to patients, educating future veterinarians, and advancing animal and human health. Our veterinarians and students provide primary care for dogs and cats. It is a home away from home for many of Iowa State's fourth year veterinary students during their clinical rotations.

The Hixson-Lied Small Animal Hospital includes the following facilities:
22 Exam Rooms
5 Treatment Rooms
Intensive Care/Emergency Medicine Unit
Canine and Feline Rehabilitation Room
12 Teaching Rounds Rooms
Anesthesia/Surgery Suite

Anesthesia Induction Area

Trauma Induction Room
Quiet Induction Room

5 Operating Rooms
Dental Suite
Endoscopy Suite
Laser Room
Cardiac Catherization Room
Minor Surgery/Procedures Rooms

Spacious Client Reception Area

Species-specific Waiting Areas for canine, feline and exotics
Diagnostic services available at the Hixson-Lied Small Animal Hospital include:
Diagnostic Imaging

16-slice CT (computed tomography)
1.5 Telsa MRI (Magnetic Resonance Imaging)
Fluoroscopy
Digital X-ray Machines
Ultrasound

Nuclear Medicine
Clinical Pathology and Microbiology
Surgical Histopathology/Pathology
The Hixson-Lied Small Animal Hospital provides preventive care and specialty care including cardiology, dermatology, emergency and critical care, internal medicine, neurology, oncology, ophthalmology, orthopedics, sports medicine and surgery. Patient support services in the hospital include anesthesia, pharmacy/compounding pharmacy and rehabilitation.
The Hixson-Lied Small Animal Hospital was made possible through funding by the Iowa Legislature and more than $5 million in private support. The Lied Foundation Trust of Las Vegas, Nev., through its trustee, native Iowan Christina Hixson, provided lead gift to the project.