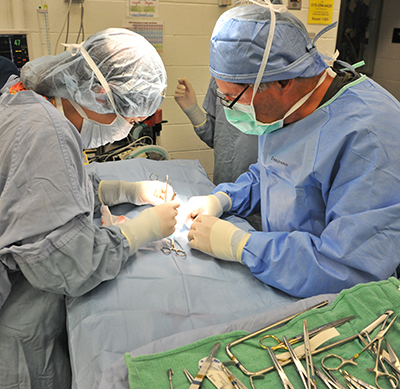 At Iowa State University's College of Veterinary Medicine, students begin their surgical training in their very first semester.
And that training runs throughout the entire four years a student spends on campus.
The College of Veterinary Medicine teams up with area shelters and rescues to provide free wellness and spay/neuter care for shelter and rescue animals in the college's hospital facilities. Participating shelters and rescues bring their new animals to Iowa State where 3rd year veterinary students, under the supervision of clinicians, provide medical assessments and preventive care, as well as spay/neuter surgeries as part of their Surgical Education Program.
During the surgical laboratory class students will conduct:
Multiple medical exams before and after surgery to ensure the patient is healthy for surgery and experiences a normal recovery
Evaluation pre-operative bloodwork including red blood cell counts, total protein, blood glucose, kidney indicators, fecal parasite exams and urinalysis
Multiple pain scoring examinations and responsibility for making sure the patient has adequate pain control
Medication administration including becoming familiar with the common protocols and products for vaccines, deworming and prevention of heartworm, fleas and ticks
Diagnosis and treatment of common problems encountered in pets including ear, skin and urinary infections, internal and external parasites, eye problems, skin masses and minor wounds
Perform spay/neuter surgeries
The program provides students the opportunity to learn about canine and feline preventative care for all life cycles including vaccines and parasite treatment, prevention and productions. This has a significant impact on preparing students for their fourth year clinical rotations and life as a veterinarian.
At the conclusion of the 2017 spring semester, the veterinary students have helped almost 600 dogs and cats from 20 shelters on their journey to forever home.
The program has also evolved including a 2nd year surgery lab where students neutered 32 tom cats during the 2017 spring semester during a live surgery laboratory.
Learn more about the program
Contact us
Thank you to our industry sponsors who have provided assistance for the program in 2016-17:
Bayer Animal Health
Merial
Zoetis
Ceva Animal Health
IDEXX Laboratories
Boehringer Ingelheim Vetmedia, Inc.