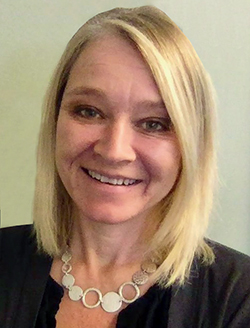 May 5, 2021
Dr. Cathy Miller, professor of veterinary microbiology and preventive medicine, has been appointed the chair of the Department of Veterinary Microbiology and Preventive Medicine. She has served as the department's interim chair for the past year after replacing Dr. Michael Wannemuehler.
 
A faculty member at Iowa State since 2006, Miller also served as a postdoctoral fellow at Harvard Medical School. She holds a PhD in molecular microbiology and immunology from the University of Missouri-Columbia School of Medicine.

Miller's research focuses on the interface between viruses and the cells they infect. Her lab is primarily focused on the oncolytic mammalian orthoreovirus and studies the basic biology of the virus in order to identify physiological and genetic environments that are amenable to the tumor cell killing activity of the virus.
She is a past recipient of the Margaret Ellen White Graduate Faculty Award from Iowa State University and has received a Margaret B. Barry Cancer Research Award for her work on orthoreovirus targeting and killing cancerous cells without harming healthy ones to destroy and modulate the cell growth survival pathways of HER2+ breast cancers.