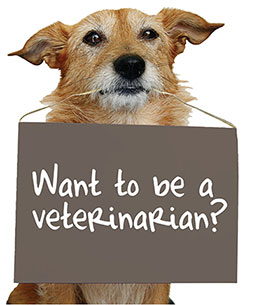 Students contemplating careers in veterinary medicine should prepare in both high school and college with a solid foundation in the biological and physical sciences. They should have a general knowledge in the arts, social sciences, humanities and communications. Students should also be motivated by a sincere concern for animal and human populations, a desire to serve the public, and a genuine interest in the medical field.
"Pre-veterinary medicine" is not a major but a preprofessional track that can be chosen within a major. Pre-veterinary medical students may pursue any undergraduate major of their choosing. The College of Veterinary Medicine seeks students with diverse backgrounds and encourages them to enroll in a major which meets their interests and goals. Although science majors such as animal science, biology, zoology, animal ecology, biochemistry and microbiology are most common, admitted veterinary medicine students have also had degrees in business, fine arts, music, English, engineering and psychology. The required pre-professional courses can be obtained through the curricula of a variety of fields of study.
A Bachelor's degree is not required for admission to Iowa State University's College of Veterinary Medicine. Applicants must only complete the specified foundational courses at a regionally accredited college or university to fulfill the academic requirements.