One of the primary goals of the College of Veterinary Medicine is to "up the value" of students' education through enhanced preparation. By making students better equipped to compete for top jobs, their salaries should offset the debt loads accumulated by many students in a DVM course of study.
The college has internship programs for students interested in careers in surgery, critical care or emergency medicine. These internships give second- and third-year students opportunities to work alongside faculty and staff in our hospitals while performing clinical duties prior to their fourth-year rotations.
Students can also utilize the Clinical Skills Laboratory in the college where they are able to hone their techniques using the future of learning technology - amazing models. Among the many different activities students can practice in the Clinical Skills Laboratory include drawing blood from Petunia the alpaca or practice delivering calves from Frosty, a full-size model of a prize-winning Holstein cow. Using Frosty, students are able to practice delivering calves through difficult birth after difficult birth. Numerous other models and simulators are available to learn and enhance critical clinical skills.
College faculty members continue to strengthen the curriculum in other ways to make Iowa State veterinary medicine graduates more "practice ready." Courses have been created to address needs in the important areas of animal welfare, entrepreneurship, personal finance and practice management. Student have the opportunity to work alongside Iowa State faculty veterinarians at the Iowa State Fair where they are responsible for the health of thousands of animals being exhibited as well as those participating in special events such as the Governor's Charity Steer Show. On campus, students can participate in our Foal Watch and Cow-Calf programs where they conduct exams and help with births, including C-Sections.

Even our student organizations help prepare their fellow student become practice-ready. Throughout the academic year, the clubs host wet labs in a variety of subjects to help students gain vital clinical skills.
International learning opportunities are offered every summer. Students travel abroad with college faculty and work with veterinarians in the host country in locations such as South Africa, Ecuador, Sierra Leone and China.
Learn more about the practice ready opportunities the College of Veterinary Medicine offers in this video.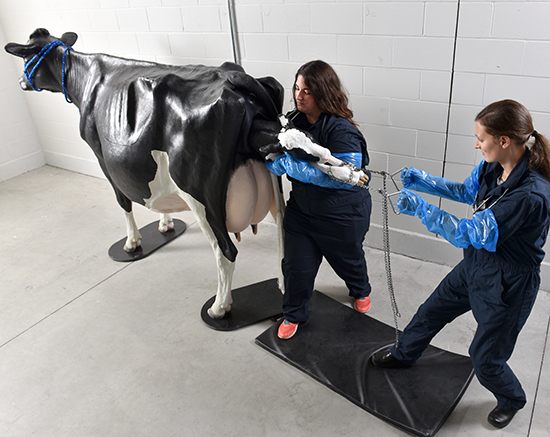 Students also receive practice-ready skills in such venues as:
Campus Facilities
Off-Campus Facilities