The College of Veterinary Medicine offers a number of summer educational and internship opportunities for veterinary students.
The BVIP (Bovine Veterinary Internship Program) gives veterinary students the opportunity to collaborate with leading veterinarians in the bovine veterinary medicine industry while not only learning the principles of beef or dairy herd health and management, but designing and executing bovine field trials.
Participants in SVIP (Swine Veterinary Internship Program) collaborate with veterinarians at production systems and/or practices where they design and execute field trials with guidance from mentors. Students will design and execute diagnostic test sampling and implement the principles and methods of swine diagnostic collection, testing and interpretation.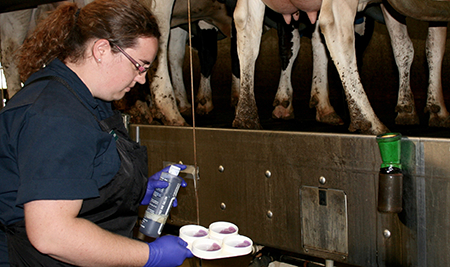 The College of Veterinary Medicine Summer Scholar Research Program is open to students who have completed their first and second year of study and is designed to introduce veterinary students to research in a wide array of areas such as clinical medicine, animal and human health. Some of the projects students have worked on in recent years including studying the effects of waiting room experiences on blood pressure measurements in cats, lowering intraocular pressure in dogs eyes and novel mechanisms of host manipulation by parasitic nematodes.