ISU VDL has installed a drive-up mailbox (containing disposable biosecurity packets) and a roadside trash container which collectively serve to provide VDL clientele a convenient resource to further reduce biosecurity risks and/or concerns associated with dropping-off diagnostic specimens at the VDL.
Step 1. Pick-up biosecurity packet from roadside mailbox at the Entrance to VDL Submissions Parking Area
            * Contents of packet (sealed plastic bag containing Tyvek booties, latex gloves, and a hand wipe)
            * The instructions outlined below are printed onto a label affixed to the biosecurity packets.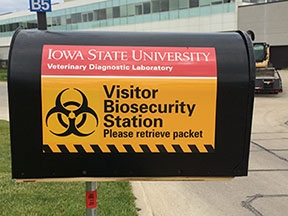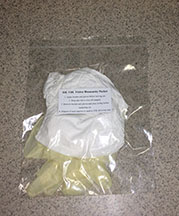 Step 2. Put on booties and gloves as you prepare to get out of your vehicle.
Step 3. Check-in and/or drop-off samples at the VDL Submissions Entrance Foyer
Step 4. Remove and place the used booties, gloves, and hand-wipe back into the plastic bag as you prepare to re-enter your vehicle.  Re-seal plastic bag.
Step 5.  Deposit used biosecurity packet into the roadside trash container as you exit VDL Submissions Parking Area.
* Hand sanitizer dispenser is also now available in the VDL Submission Entrance Foyer.
We trust these additional resources will serve as a useful complement to your current biosecurity practices.
Please don't hesitate to call (515-294-1950) or e-mail ISU VDL (attention Dr. Katie Woodard, Client Education & Outreach, kwoodard@iastate.edu) should you have any questions.