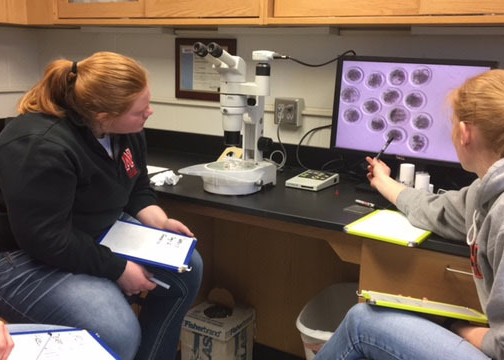 The Iowa State University VDPAM Theriogenology Team helps and assists producers and veterinarians in the Midwest achieve reproductive goals on individual animals or within any production animal herd setting.  We understand the potential challenges and problems of reproduction and work with our clients and referring veterinarians towards successful outcomes.
The ISU VDPAM Theriogenology Team has a broad range of expertise, areas of interest, and clinical experience and is supported by board-certified theriogenologists and an experienced staff. The Theriogenology Team works in conjunction with other specialists including our species specific groups in the department of VDPAM. In addition, we work closely with the Iowa State Veterinary Diagnostic Lab and the Department of Animal Science.
Our team has active involvement in clinical service including comprehensive consultation for clients and referring veterinarians on reproductive questions, concerns, or issues. Our reproductive laboratories allow us to offer many assisted reproductive technologies including semen cryopreservation, embryo transfer, and artificial insemination (including laparoscopic AI).
The Theriogenology Team is extremely active in clinical training and teaching of veterinarians and veterinary students with the most applicable and updated information. Our involvement in reproductive applied research linked to producer concerns allows us to provide accurate and useful material through outreach and extension programs.