Friday Foals
When foaling season was underway last fall, the Large Animal Hospital remembered some of their more memorable foals of 2022.
You can learn about "Riggs," who was born one month premature; "Phoenix," who went home after a week in the ICU; "Maverick," who developed seizures and respiratory compromise due to a combination of maladjustment syndrome, acute respiratory distress syndrome and surfactant deficiency; and "Gold N Halo," who was born without a heartbeat.
Every "Friday Foal" is chronicled on the Large Animal Hospital Facebook page.
You can also watch a news report on how "Gold N Halo" is a true miracle horse.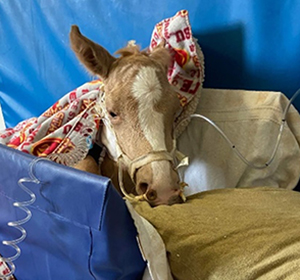 LVMC Client Newsletter Issue Date: