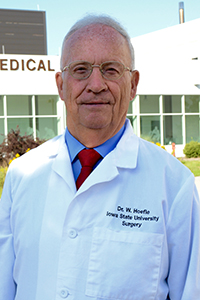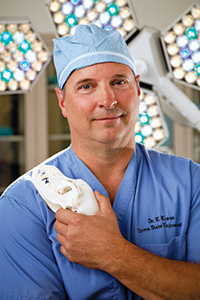 June 23, 2022
Dr. William Hoefle and Judy Hoefle have established the Hoefle Professorship in Small Animal Orthopedic Surgery in Iowa State University's College of Veterinary Medicine.
William Hoefle was a long-time small animal orthopedic surgeon at Iowa State and recently retired after more than 50 years on the College of Veterinary Medicine faculty.
"We wanted to give back to Iowa State because of the incredible opportunities and experiences which the university has provided us," the Hoefles said. "We felt this professorship was a way to show our appreciation."
Dr. Karl Kraus, professor of veterinary clinical sciences at Iowa State since 2007, has been named as the inaugural recipient of the Hoefle Professorship. Kraus is a diplomate in the American College of Veterinary Surgeons and the founder of the International Veterinary Orthopedic and Neurosurgical Academy that develops surgical devices and offers post-DVM education worldwide.
William Hoefle came to Iowa State in the fall of 1960 and was the first in his family to attend college.
"As for many, this was a time for new experiences, growing up and finding a career I felt would be challenging, but rewarding," Hoefle said.
Hoefle graduated from the College of Veterinary Medicine in 1966 and practiced in a small animal hospital in Hollywood, Florida, before coming back to Iowa State in 1970. He never left.
"Iowa State provided what I was looking for professionally," Hoefle said. "I never gave much thought to how long I was on the faculty. I was enjoying what I was doing and looked forward to coming to work every day. Working with the residents was rewarding and the fourth-year students kept things interesting and helped me stay in touch."
Kraus says being the first to hold the Hoefle Professorship is a high honor, especially after he worked side-by-side with Hoefle for the past 15 years.
"Everyone holds Dr. Hoefle in awe," Kraus said. "He's been at the forefront of orthopedic surgery for the last half century. He pioneered hip replacement surgery in dogs and was a driving force behind the growth of a veterinary specialty practice in Las Vegas.
"He was also one of the early founders of the American College of Veterinary Surgeons. He's a legend."
Kraus is renowned for his contributions to the fields of veterinary orthopedics and neurosurgery. Prior to joining the Iowa State faculty, he served on the faculty at Tufts University College of Veterinary Medicine in orthopedic and neurosurgery. He held a joint appointment with the Harvard Medical School, helping to develop and perform innovative techniques in neurosurgery in humans. He has trained in excess of 60 now board-certified surgeons in his career.
Training surgical residents is a priority for both Kraus and Hoefle. Kraus plans to use funding from the Hoefle Professorship to support Iowa State surgical residents, helping fund their research, and provide assistance for the residents to attend advanced continuing education training.
"Hopefully, this will enhance the small animal surgery program for the benefit of the students and residents," Hoefle said. "Additionally, the professorship will be helpful in retaining and recruiting the most talented small animal orthopedic surgeons."