Currently the most cost effective and sensitive strategy for BVDV testing at the ISU VDL is  immunohistochemistry on formalin-fixed ear notch samples. 
Materials and Equipment Needed:
1. An ear notching tool that yields a 1cm a side notch, these are available
    from sources listed below, as well as others.
• Nasco: 800-558-9595, Order ID medium C0024N
• Dairy Health USA: 800-276-7933, Order ID medium 440-31
• Stone Livestock Identification, Show Equipment:
   816-231-4020 Order ID medium 7125
2. Snap–cap milk tubes [please do not use whirl-pac bags].
3. Shipping container rack that organizes individual tubes in slots.
4. Submission form: Use the Ruminant Health Test Request form found here.
5. Vaccination and tattoo ink do not affect immunohistochemistry
    techniques when done at the same time samples are taken.
 
Collection Procedure:
Label collection tubes with the animal ID's and sequence number's (#1 through number in submission).
 
Dip notching tool in disinfectant, then rinse.  Residual disinfectant does not affect immunohistochemical techniques.
 
Take a proper size ear notch from a clean portion of the ear (Figure 1).
 
Place notch into a labeled, collection tube with enough 10% buffered neutral formalin to cover the notch.
 
Ear notches can be stored for up 1 week prior to shipping. Refrigeration once formalin-fixed is not required.
Figure 1: Best location for taking ear notch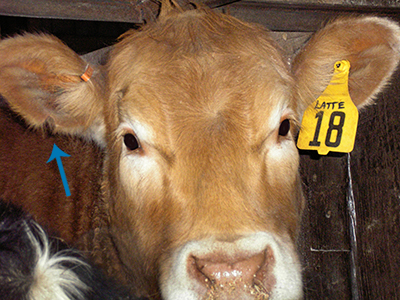 Submitting Samples
Contact Information
Dr. Vickie Cooper
Veterinary Diagnostic Laboratory
Iowa State University
1800 Christensen Drive
Ames, IA  50011
515-294-1950
Fax 515-294-3564