Oncology Service Update
The Lloyd Veterinary Medical Center oncology service welcomed two new faculty members. Dr. Nicholas Rancilio (boarded in radiation oncology) and Dr. Keiko Murakami (double boarded in medical and radiation oncology) joined the oncology team in June 2022. Having a full complement of oncology faculty allows the service to offer clients and patients comprehensive treatment plans that include radiation therapy, chemotherapy, or both. Our new faculty can provide emergent radiation therapy treatments for patients that would benefit from immediate treatment (such as those with mediastinal lymphoma) and expands the types of tumors we can treat.
Since June 2022, we have treated 40 radiation patients (34 dogs, 6 cats) with 17 different tumor types. The most treated gross tumors include nasal, oral, brain, and urothelial cell carcinoma. For those treated in the adjuvant setting, soft tissue sarcomas and apocrine gland anal sac adenocarcinoma are most common. Four patients had more than one site treated due to finding a secondary, incidental tumor on staging.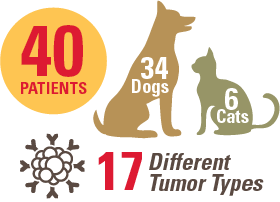 LVMC Client Newsletter Issue Date: