Dear Clients of the Lloyd Veterinary Medical Center,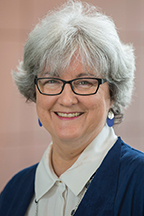 It was the Wednesday of Spring Break when word came that the clinical year students were unexpectedly being sent home due to COVID-19. Fourth-year veterinary students in their clinical year work all year round as they put into practice their training of the previous three years by working in our hospital. They perform essential functions in the hospital – and they were gone! Suddenly our hospital was missing close to 150 students but the patients still needed care.
The hospital didn't skip a beat. Staff members were sent home at lunch to come back later to cover night shifts left vacant. Residents and interns picked up work normally done by the student doctors-in-training. Faculty members turned their attention to quickly developing training resources that could use a virtual format to teach clinical skills to our fourth year students who now must train remotely.
There were new constraints on the use of personal protective equipment (PPE) and Centers for Disease Control and Prevention (CDC) guidelines to limit veterinary care to emergencies and support for the country's food supply. Accordingly, staff and doctors were shuffled to our emergency services and production animal services, and all other appointments cancelled. Clients were no longer allowed in the building, and a new policy of curbside check-in was quickly developed. Administration disseminated new operating policies from the constantly updated guidelines from the CDC and Iowa Department of Public Health on use of PPE, how to mitigate spread of the virus, handling animals owned by COVID-positive individuals, and many others.
Throughout this constantly changing landscape there were two constants - the care of the animals, and the teaching of veterinary medicine to support the future of our profession. Doctors and staff worked long, extra hours, including nights and weekends, because they believed in our missions of professional practice and teaching. They put aside their own concerns, moved family commitments and put the animals and students first.
Gradually we are working out a "new normal." Everyone in the hospital wears cloth masks. Curbside patient check-in is flowing smoothly. Social distancing has caused alterations in our seating and traffic flow. That clinical year class that went home in March successfully graduated, although with a virtual ceremony. The new clinical year class has been learning remotely for the past two months, and we are excited about plans to have these students join us in-person in July, once modifications to support social distancing are completed.
Iowa State University has a long history of weathering various crises, and this is just one more story of how our community is resilient, creative, and focused on making a difference to others regardless of the circumstances. I hope you are staying safe and well, and you find yourself inspired by the stories in this newsletter. We are glad to have you as part of our community.
Sincerely,
Stephanie West, D.V.M.
Director of Hospital Operations
Grateful Client Issue Date: