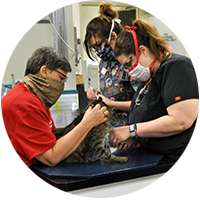 Anything but Routine
Since early March when the COVID-19 pandemic hit Iowa, the Hixson-Lied Small Animal Hospital has limited its services to emergencies only.
And the hospital is taking other precautions including curbside check-in for all patients. All staff members are wearing cloth masks when they interact with the public. And since late March, the clinical rotations have concluded, so no fourth-year veterinary students have been available to assist in the ER.
It's anything but routine for the Emergency, Critical and Intensive Care Services but that doesn't mean the patients haven't stopped coming.
"We have not only had patients who have been hit by a car, but also abscesses and urinary tract infections," said Dr. Rebecca Walton, clinical assistant professor. "Additionally we have access to all of our specialty services if they are needed."
Grateful Client Issue Date: