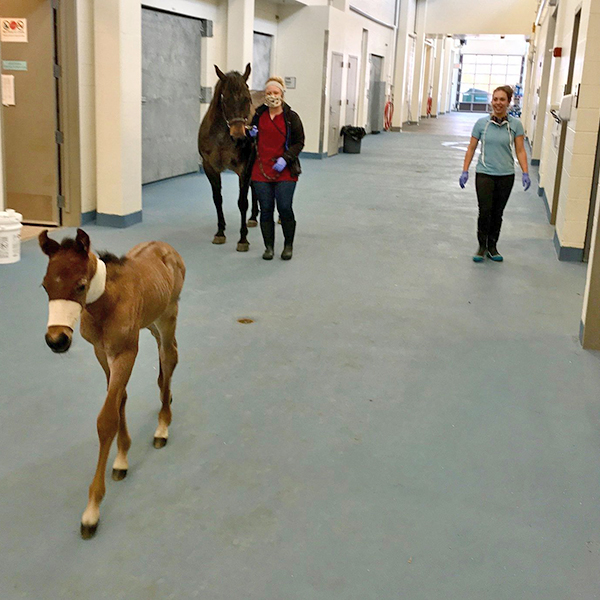 Investing in Patient Care
Twenty-four hours a day, the floors of the Equine Hospital at the Lloyd Veterinary Medical Center receive a workout from foot and hoof traffic and heavy rolling carts carrying equipment, bedding and feed. Over time, those heavy loads and traffic take a toll.
This past winter, just shy of 15,000 square-foot of new flooring was installed in the main receiving hall and corridor, equine wards 1 & 2, and the equine ICU. Additionally, the Large Animal Hospital radiology and scintigraphy room were re-floored.
The new flooring has several advantages over the previous flooring.
"This floor is seamless, impermeable to water, slip resistant, and easier on the joints of the horses as it is soft and provides a cushion," said Josef Biechler, supervisor at the Large Animal Hospital.
Biechler says the floor has two traits that make it extremely slip resistant. The topcoat of the floor has aggregate, which gives it the rough grit-like texture so horse hooves can get traction. And, because it is a soft floor consisting of a rubber base layer with a urethane topcoat, the horse's weight makes the floor sink slightly under their hooves allowing for texture, "much like a horse standing on top of the soil," Biechler said.
"It's also easy to clean, impervious to most chemicals and hospital disinfectants, stain resistant, durable and easy to repair," Biechler added.
"We're optimistic that the product we have on our floor is the best on the market currently," Biechler said.
Grateful Client Issue Date: