The CPC provides pathology support for research projects involving animal models. This includes gross and microscopic pathology, clinical pathology, special imaging, photography and data analysis. The CPC provides service to investigators both within and outside Iowa State University and can assist with a broad range of preclinical studies in a wide range of species. Studies that CPC has completed include toxicology, vaccine studies, infectious disease, nutritional physiology, neoplastic disease, musculoskeletal disease and developmental disorders. Please contact Rachel Phillips for more information or fill out this request for service form and email to rlp79@iastate.edu.
Services
Pathology
Gross examination
Tissue collection
Gross lesion scoring
Histopathology
Microscopic lesion scoring
Special stains
Clinical Pathology
CBC and serum biochemical analysis
Cytologic examination
Urinalysis
Special Imaging
Immunohistochemstry
In Situ Hybridization – RNAscope
Hyperspectral microscopy
Photography
Gross and microscopic images
Fluorescent and chromogenic IHC
Formatting for publication
Data Analysis and Report Generation
HALO Image Analysis software
Morphometrics
Data from CPC may not be submitted for safety/efficacy to FDA, CVB, EPA, NCI/ other federal agency
 
Featured Service
In Situ Hybridization - RNAscope

This is a new method for in situ hybridization that yields a strong, specific, readable signal (see figures below) using formalin fixed / paraffin embedded or frozen  tissues. Species specific probes can be designed for multiple species including bovine, porcine, canine, equine and murine. Please contact us to find out if this technology may be helpful in your research project.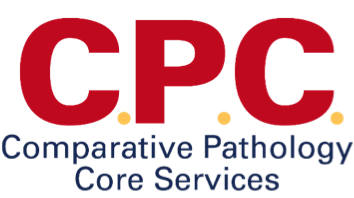 Mission: Provide high quality pathology support to researchers using animal models.
Contact Information:
Rachel Phillips
Assistant Scientist II
rlp79@iastate.edu
515-294-0953
Amanda Fales-Williams
Faculty Contact
fales@iastate.edu
515-294-7445
Joe Haynes
Faculty Contact
jhaynes@iastate.edu
515-294-0879