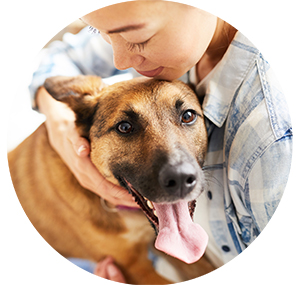 No Gift too Small
The Companion Animal Fund, established by Dr. Ron Grier, provides a way for individuals to honor a beloved pet or pet lover. All gifts go directly to support improvements in animal health care, including the purchase of high-tech instruments that make treatments less invasive, physical improvements that add comfort to patients, and research to provide new solutions for the diseases and disorders that afflict companion animals.
Dr. Nels Backlund ('75) of the Backlund Animal Clinic in Omaha, Nebraska, says he first started to donate to the fund as a way to show his concern for the loss of a pet. "I felt good about the fund not only benefiting my alma mater, but Dr. (Ron) Grier was a mentor during my time at Iowa State," Backlund said. "I used to base the donation on whether it was a 'good' client, but at some point I had an epiphany and realized this was a good way for me to donate regular, small amounts to Iowa State that would add up over time.
Learn how a gift no matter its size can assist the Hixson-Lied Small Animal Hospital.
Grateful Client Issue Date: