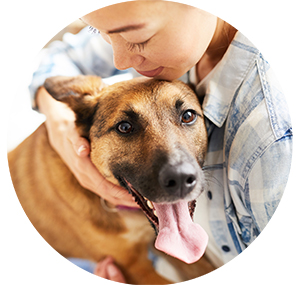 No Gift Too Small
Many charitable organizations say that, but the Companion Animal Fund in the Hixson-Lied Small Animal Hospital practices it each and every day.
"Over 4,300 gifts have supported the Companion Animal Fund, with over $53,000 donated since 2018," said Sandy Popelka, long-time administrator for the Companion Animal Fund.
Established in 1983, the Companion Animal Fund provides a way for individuals to honor a beloved pet or pet lover. All gifts go directly to support improvements in animal health care, including the purchase of high-tech instruments that make treatments less invasive, physical improvements that add comfort to patients, and research to provide new solutions for the diseases and disorders that afflict companion animals.
"For our alumni this has been a warm fuzzy that allows them to recognize their clients' pets," Popelka said.
That's what Dr. Nels Backlund ('75) of the Backlund Animal Clinic in Omaha, Nebraska, has done for many years. Backlund says he first started to donate to the fund as a way to show his concern for the loss of a pet.
Backlund first started giving after the fund was established by Dr. Ron Grier, professor emeritus.
"I felt good about the fund not only benefiting my alma mater, but Dr. Grier was a mentor during my time at Iowa State," Backlund said. "I used to base the donation on whether it was a 'good' client, but at some point I had an epiphany and realized this was a good way for me to donate regular, small amounts to Iowa State that would add up over time.
"At that point, the donation was as much about giving back to Iowa State as it was to honor the pet."
Like Backlund, Dr. Jacques Thebert ('86) of the Franklin Veterinary Clinic in Franklin, Wisconsin, has long been a supporter of the Companion Animal Fund. Thebert says he contributes because of his gratitude for the veterinary education he received at Iowa State as well as knowing his donations will be used where they are most needed.
"I tell my clients when they receive acknowledgement from Iowa State, that those funds provide a 'silver lining' when the difficult decision is made to euthanize their pet," Thebert said. "Even though their pet is no longer living, the donation made in their pet's name may fund research that will make all future pets lead happier and healthier lives."
Those gifts have added up big time. To date, the Companion
Animal Fund has raised almost $2.5 million for the Hixson-Lied Small Animal Hospital. Popelka says about 90% of the donations honor a dog or cat, but that gifts have been made in honor of cows, snakes and even a chicken.
And the donations don't stop when the veterinarian recognizes an animal. The pet owner will receive a notification and Popelka says, "many times they will turn around and mail in a contribution themselves."
And donations come in surprising ways. Back in 1991, in a "Dear Abby" column, a reader wrote into Abby about the Companion Animal Fund and that led to a significant gift. The biggest check ($45,000) the fund received came from a donor whose local vet had made a $5 donation in the memory of their pet.
"Every small donation can turn into a large donation," Popelka said. "But more than anything it's a warm connection between the veterinarian and the pet owner. The vets want to show compassion to their clients.
"The clients are so touched that I will get calls from them asking for an unfolded copy of the acknowledgement letter. "
Donations to the Companion Animal Fund may ebb and flow, but the lasting memories the fund creates last forever.
January 2020