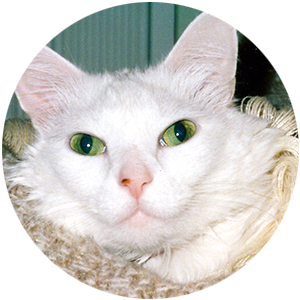 Connecting with the LVMC
Mark Fleming has deep connections with Iowa State University. A 1970 physics graduate, Fleming has volunteered his time to various campus groups. What is his connection with the Lloyd Veterinary Medical Center? It happens to be a scholarship Fleming and his wife Laurel established in honor of their first "child" - a cat named Eric.

Throughout his long life, Eric suffered a variety of illnesses that "allowed" the Flemings to make acquaintances with countless specialty veterinarians. When Eric died at the age of 15, the Flemings decided it was time to remember a good friend and the wonderful veterinary care he received over the years. The Eric Fleming Memorial Scholarship was established for veterinary students at Iowa State who had an interest in small animal medicine.

"We thought it was a good idea to remember this wonderful little cat and establish a scholarship in small animal medicine," Laurel said. "Eric wouldn't have lived much past three or four without the veterinary care he received."

The most recent recipient of the scholarship is Kasey Bird, who graduated this past spring and is now practicing at a small animal clinic in Texas.

"Scholarships helped provide financial stability over my four years and I am very lucky to come out of school with less debt because of generous donors and scholarship support," she said.
Grateful Client Issue Date: