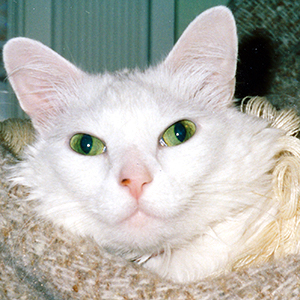 Mark Fleming has deep connections with Iowa State University.
A 1970 physics graduate, Fleming has volunteered his time in the Departments of Physics and Astronomy and Music and Theater, as well as the College of Liberal Arts and Sciences, serving all these entities on their professional advisory councils.
His connection with the College of Veterinary Medicine and the Lloyd Veterinary Medical Center? It happens to be a scholarship Fleming and his wife Laurel established in honor of their first "child".
The Flemings were living in working Minneapolis at the time when four kittens appeared outside Laurel's workplace.
"My office was in an old refurbished mansion and there were several feral cats around," Laurel recalled. "One had a litter of kittens, which appeared to have been abandoned, so my colleagues and I took care of them.
"Mark and I had been dating for a year, and he had been out of the country when the kittens were born. When he came back from that trip, Mark became endeared to one of the white cats."
"I remember that this little character—the runt of the litter—reached out his paw and touched my face," Mark said. "It was love at first sight for both of us."
That's how Eric became a member of their family.
The bonding continued for Mark and Eric. Mark would come home every day at noon to feed Eric. He showed him the litter box and taught him how to eat out of a bowl. Eric would nestle inside Mark's shirt.
"Everything a mother cat would teach a baby kitten, I had to do with Eric," Mark said.
Unfortunately, when he was just three years old, Eric became ill with an acute case of feline urologic syndrome, requiring immediate surgery.
That was the beginning of life-long veterinary care for the little cat, who would later contract diabetes, pancreatitis, and cancer.
"As a result of Eric's medical history, we made acquaintances with a lot of specialty veterinarians," Mark said.
And when Eric died at the age of 15, the Flemings decided it was time to remember a good friend and the wonderful veterinary care he received over the years. The Eric Fleming Memorial Scholarship was established for veterinary students at Iowa State who had an interest in small animal medicine.
"We thought it was a good idea to remember this wonderful little cat and establish a scholarship in small animal medicine," Laurel said. "Eric wouldn't have lived much past three or four without the veterinary care he received."
The most recent recipient of the Eric Fleming Memorial Scholarship is Kasey Bird, who graduated this past May. The recent graduate has moved back to her home state of Texas where she is now practicing at a small animal clinic in College Station.
"In high school I was fortunate enough to shadow a small animal practitioner and I was always drawn in by the human animal bond that he worked so hard to protect and cultivate," Bird said. "I knew one day that I wanted to be part of that."
Thanks in part to scholarships like the Eric Fleming Memorial Scholarship, Bird says she was able to realize her goal of becoming a veterinarian.
"Scholarships helped provide financial stability over my four years and I am very lucky to come out of school with less debt because of generous donors and scholarship support," she said.
Made in part thanks to the legacy of a little white cat.