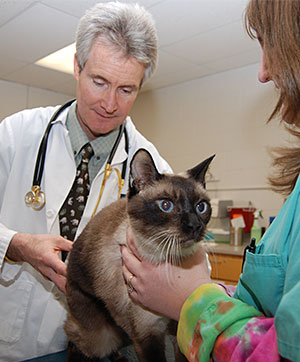 Why do you need to see us?
Here at the Hixson-Lied Small Animal Clinic of the Lloyd Veterinary Medical Center, we have five ACVIM Board-certified specialists in our small animal internal medicine group. While we see all aspects of internal medicine, we offer special skills and training in the following areas: hematology, gastrointestinal disorders, endocrinology, nutrition, and obesity, to name a few.
We also have an active and successful residency training program with a long history of success in having our residents achieve board certified status. Our certified technicians work closely with our students, clients, and all of our cases and are also in charge of our non-resident canine and feline blood donor program.
Appointments
Please call 515-294-4900 to schedule an Internal Medicine appointment. New appointments are scheduled for Monday-Thursday, 9 a.m. to 1 p.m.  Rechecks are scheduled every day of the week (including Fridays).  Our medicine service also receives transfers from our emergency service 7 days a week/365 days a year.
Re-check appointments can be scheduled five days a week, as time allows, usually in the afternoons. Some rechecks may be scheduled through our internal medicine technician service. This service is typically reserved for short, routine rechecks of stable animals.
Most internal medicine appointments require admitting your pet to the medical center for at least one day if not overnight. Due to the busy nature of the center not all diagnostic testing can be done on the same day. Also, while specific tests may have been mentioned by your referring veterinarian, all new patients initially come to internal medicine for consultation. Only then will specific testing be discussed and scheduled.
Imaging and diagnostic procedures requiring general anesthesia are normally scheduled for the day after the initial appointment.
When calling to schedule an appointment, please note that you may not see the same doctor or student. Our teams work in rotations to provide year-round care while providing the time for teaching and research to our students and staff. With the team approach we can provide seamless care for your animal any day of the year.