Our Team
The Hixson-Lied Small Animal Hospital's internal medicine service specializes in the diagnosis and treatment of pets with complex diseases affecting various organ systems. Our team board-certified internal medicine faculty, residents, interns, technicians, and veterinary students work together to offer the most advanced diagnostics as well as the best possible care for your pet.
What We Do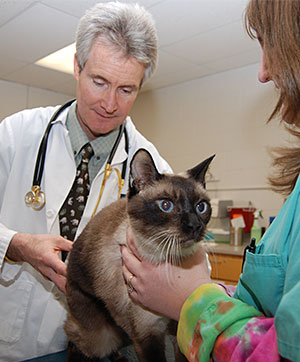 Treat
Our team is trained in the diagnosis and treatment of a wide variety of diseases affecting cats and dogs. These include diseases affecting the immune and endocrine systems, as well as conditions affecting the intestinal, urinary and respiratory tracts In collaboration with the other services of the Hixson-Lied Small Animal Hospital, we use state-of-the-art knowledge and technologies to provide the best possible care for your pet. As many of the conditions we deal with are complex and often involve multiple organ systems, it is not uncommon for our patients to require hospitalization while we diagnose and treat their conditions. In addition to a variety of blood and urine tests, our service offers advanced diagnostic and therapeutic modalities that include:
Teach
In addition to didactic teaching (lectures), our faculty actively participate in the clinical training of the next generation of veterinary general practitioners and specialists. Under the supervision of our faculty, our students, interns, and residents receive a robust clinical training through their exposure to the large and varied caseload of our hospital.
Our faculty also support the veterinary community of Iowa and the surrounding states by regularly participating in continuing education events as well as providing tele-consulting services to our referring veterinarians.
Research
In addition to their clinical and teaching responsibilities, our faculty have specific research interests and active clinical research programs. Ultimately, the goal of our research is to improve the lives of our patients and their owners.
If your pet is eligible for a research study, our clinicians will discuss possible participation of your pet with you. Alternatively, if you believe that your pet is eligible for one of our studies, we encourage you to contact us to discuss possible enrollment.
Appointments
Please call 515-294-4900 to schedule an Internal Medicine appointment. New appointments are scheduled from Monday to Thursday and rechecks are scheduled every weekday from 9 a.m. to 12:00 p.m. Our service also receives transfers from our emergency service 7 days a week/365 days a year.
Most internal medicine appointments require admitting your pet to the medical center for at least one day if not overnight. Due to the busy nature of the center not all diagnostic testing can be done on the same day. Also, imaging and diagnostic procedures requiring general anesthesia are normally scheduled for the day after the initial appointment.
When calling to schedule an appointment, please note that you may not see the same doctor or student. Our teams work in rotations to provide year-round care while providing the time for teaching and research to our students and staff. With the team approach we can provide seamless care for your animal any day of the year.