The Iowa State University Lloyd Veterinary Medical Center Hospital Pharmacy offers a wide variety of pharmaceutical products and services to both large and small animals of numerous species as well as many different exotic animal species. The pharmacy is available for public inpatient and outpatient use to fill both manufactured and compounded prescriptions prescribed by one of Lloyd Veterinary Medical Center's in-house clinicians. The pharmacy is also available to referring veterinarians to prescribe compounded medication products for their clients. The pharmacy also provides prescription mailing services for in-house and referring veterinary clinician clients.
Lloyd Veterinary Medical Center Hospital Pharmacy provides both human-labeled and vet-only labeled manufactured products for in-house clinician clientele including parasitic medications, dental hygiene medications and products, a wide variety of topical medications for skin conditions, eye and ear drops, insulin products and supplies, e-collars, equine vaccines, food animal medications, oncology medications, as well as many other medications in many different dosage and delivery forms to treat a wide array of disease states and conditions.
Compounding services are provided for clientele of both in-house clinicians as well as clientele of referring veterinary clinicians by the Lloyd Veterinary Medical Center Hospital Pharmacy. The state of the art compounding facility provides clients access to both sterile and non-sterile compounded medications prepared by a pharmacy staff with extensive training and experience in pharmacy compounding practice. The compounding service gives clinicians and their clients' versatility and multiple options when diagnosing and deciding on a medication treatment regimen for the animal. Our compounding pharmacy can customize medications in regards to dosage form, administration routes, flavors, specific strengths, as well as several other customizations. Our staff is always available to clinicians, clients, and referring veterinary clinicians to discuss all of their compounding needs and treatment option possibilities.
---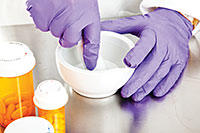 Contact Information/Refills
Our pharmacy is open to the public Monday through Friday 8 am to 6 pm and Saturday mornings 8 am to 12 pm. We are located inside the Iowa State University Lloyd Veterinary Medical Center through the Hixson-Lied Small Animal Hospital Entrance via street Entrance A off South 16th Street in Ames, Iowa.

Our direct number for pharmacy refills/inquiries is 515-294-2427 or jfvogel@iastate.edu.