Honoring a Jersey Legacy
For decades, Joe and Norma "Duffy" Lyon operated a thriving dairy business in Iowa. As leaders in the industry, Joe and Duffy, along with their children and grandchildren, maintained their connections to the animal science department at Iowa State University.
Throughout the Midwest, dairy science is synonymous with the Lyon family's Jersey legacy. In 2007, when Iowa State was preparing to open the doors to a new educational facility at the university's dairy farm south of campus, Duffy Lyon and her grandson molded a life-sized Jersey cow out of clay. The two worked for six months to sculpt what we now call the "Jersey Jewell." In honor of Joe and Duffy's contributions to the dairy industry, and in recognition of the importance of preserving the sculpture for future generations of dairymen and women, Swiss Valley Farms contributed a large portion of the funding needed to have the sculpture cast in bronze.
Of course, the Jersey Jewell was not Duffy's first cow sculpture. Duffy is most commonly referred to by Iowans as the "butter cow lady" because of the 46 years she spent sculpting life-sized cows out of butter annually for the Iowa State Fair. Additionally, a cow-calf sculpture Duffy created has been on display atop a hill overlooking the highway 63 and highway 30 junction in Toledo, IA, since 1991.
Due to natural weathering, this fiberglass cow-calf sculpture, arguably Duffy's best work, is deteriorating. A replica of Norma "Duffy" Lyon's cow-calf sculpture (Toledo, Iowa), is being reproduced for display at the Veterinary Field Services Building at Iowa State University's College of Veterinary Medicine. This replicated sculpture will be bronzed to withstand weathering, preserving it for years to come.We are deeply grateful for the opportunity to honor not only Duffy Lyon and her family, but the legacy of the Jersey breed, with the addition of these new bronzed statues at the Field Services Building.
To help reach our fundraising goal, please consider making a charitable contribution to the ISU Foundation and directing your gift to the Lyon Dairy Science Sculpture Fund.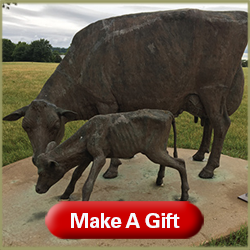 To contribute to Duffy Lyon's Cow-Calf Sculpture Fund, donate online or mail your donation to:
ISU Foundation
P.O. Box 2230
2505 University Blvd
Ames, IA 50010-2230