There are two types of allergy tests for pets: serum (i.e. blood) tests and intradermal (i.e., skin) tests. These tests look at the allergy condition from two different perspectives. There is a fair amount of controversy over which is the best testing methodology. Both have advantages and disadvantages.
The dermatologists at Iowa State University recommend intradermal (skin) allergy testing and consider this to be the most accurate method of allergy testing animals. We do occasionally recommend serum tests, depending on the circumstances. Both tests probably fall in the 70 percent accuracy range.
Intradermal (skin) allergy testing is a complicated and sensitive process. Preparation of your pet for this testing is a critical step in achieving the best test results! It is important that you follow the guidelines listed below. Failure to do so can result in an inaccurate diagnosis and may reduce the effectiveness of treatment for your allergic pet.
Please do not feed your pet after 10 p.m. the evening before your appointment. Water should be made available. We do not want your companion animal to become dehydrated.
Discontinue medications that may interfere with the test

Antihistamines for 2 weeks (Examples: Benadryl, hydroxyzine, etc.)
Oral fatty acid supplements (pills or liquids) for 2 weeks
Oral glucocorticoids (cortisone) for 3-4 weeks (Example: prednisone)
Injections of cortisone for 2-3 months (Examples: Depo-Medrol, Vetalog)
Medications for the ears, eyes, or topical medications that contain cortisone (Examples: Depo-Medrol, Vetalog) for 2 weeks
All special diets that contain high concentrations of fatty acids for 2 weeks.

Examples:
Eukanuba Response Formula Diets
Hill's Prescription Diets d/d or z/d
Because of the nature of intradermal allergy testing it is imperative that you discontinue the use of certain products. During the time you have discontinued those products, your companion animal may have no relief from the conditions you are seeking to manage by scheduling an appointment with us. The following products have been shown effective in maintaining a high quality of life for your animal while insuring that the results of intradermal allergy testing are not skewed in any way.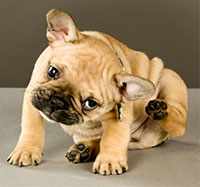 What Can You Do to Reduce Itchiness During the Preparation Time for Allergy Testing?
You may use topical anti-itch shampoos containing colloidal oatmeal or pramoxine as often as necessary. These products tend to provide some relief for approximately 2-36 hours. Follow label directions for applications. ALWAYS use cool water for bathing and towel dry only (NO blow dryers!) (Examples of acceptable products: DermaSootheTM Shampoo - EVSCO; ReliefTM - DVM Pharmaceuticals)
There are a variety of topical sprays intended to reduce itchiness. They may be used until 24 hours before your appointment. Do not use any topical sprays containing glucocorticoids (e.g., hydrocortisone, betamethasone, dexamethasone). Be sure to check labels! (Examples of acceptable products: DermaSootherTM - EVSCO; AllermylTM - Virbac)
If you are discontinuing oral cortisone-type medications (e.g., prednisone), you may use antihistamines until 2 weeks prior to the testing.
Oral antibiotics (from your veterinarian) almost always help reduce the itchiness as we withdraw the other drugs that may interfere with the allergy testing. These may be given until 24 hours before your appointment.
Please feel free to call the Dermatology Service if you have questions about medications that are allowed. Do not stop any medications that are required for life-threatening conditions, such as heart failure. If you have any doubts, call us at 515-294-4900. Dr. Diana Miller will help you decide if medications should be discontinued.
The Dermatology Service at the Iowa State University Medical Center is staffed by trained professionals, board certified clinicians, and highly trained support staff. We are a teaching hospital, and students are highly involved in the handling and management of our cases. The students are always under the direct supervision of our doctors or technical staff as they are taught how to diagnose and treat dermatology cases. Key diagnostic tests and decisions are done by the doctors or technical staff after discussions with the pet owner.
Please check in with the Small Animal Reception Desk when you arrive. In most cases you will be asked to fill out a two page questionnaire. This is very important information for us and is necessary to properly diagnose and treat your pet's dermatological conditions.
You will be asked to wait in the reception area for a brief period of time. A student will then escort you to an examination room, where they will ask you more questions about the medical history and perform a physical examination. In some instances, it will be necessary for us to take your pet to our treatment room for some procedures.
The student will visit briefly with the attending clinician about your pet and then they will visit with you and perform another physical examination. Diagnostic and treatment options will be provided to you at that time.
We will generally require the presence of your pet for the majority of the day, especially for allergy testing. Please plan accordingly. If time is a major concern for you, please let us know at the time the appointment is made so that we can do our best to work within your schedule.