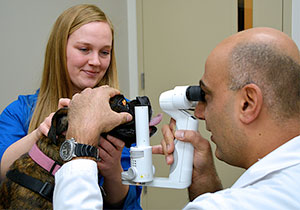 The following are all indications to consult with us, or with your regular veterinarian, without delay:
Sudden change in the appearance of one or both eyes
Loss, or impairment, of vision
Excessive ocular discharge
Ocular pain (squinting or rubbing)
While your regular veterinarian may be able to deal with many minor eye conditions, referral to a specialty ophthalmology service is likely to be necessary if your companion animal has a more serious or complex eye disease.
Examples of diseases that generally require the expertise of a board-certified ophthalmologist include:
Cataract
Glaucoma
Severe or chronic uveitis
Deep, progressive or non-healing corneal ulcers
Disease of the orbit (eye socket)
Retinal disease
Severe eye trauma
Tumors in and around the eye
Eyelid disease (e.g. large tumors, conformation abnormalities)
The Iowa State University Veterinary Medical Center is the only veterinary clinic in Iowa with multiple ophthalmology doctors offering this level of expertise. In addition to patients from Iowa, we frequently treat animals from other states in the Midwest, including Illinois, Minnesota, Missouri, Nebraska, North and South Dakota and Wisconsin.
For help in locating a board-certified veterinary ophthalmologist in your area, visit the official ACVO website.