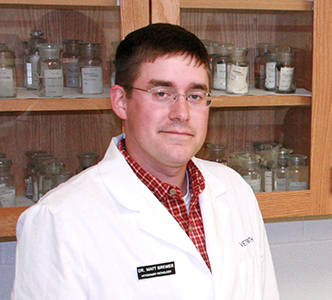 September 30, 2020
Dr. Matt Brewer, associate professor of veterinary pathology at Iowa State University, has been appointed the Dr. Frank K. Ramsey Endowed Chair in the College of Veterinary Medicine.
A faculty member in the Department of Veterinary Pathology since 2012, Brewer has earned his DVM and PhD (pharmacology) from Iowa State. He is a Diplomate in the American College of Veterinary Microbiologists (parasitology).
While at Iowa State he has been honored for his classroom teaching excellence with the College's Award for Early Achievement in Teaching and the Outstanding Teaching Award voted by the College's student body.
Brewer directs the parasitology residency training program at Iowa State, which trains graduate veterinarians in parasitology research and diagnostics. Iowa State is one of the few schools in the nation to train parasitology residents and received funding from the National Center for Veterinary Parasitology to fund the program.
A past president of the American Midwestern Conference of Parasitology, Brewer has also served on the Education Committee of the American Association of Veterinary Parasitologists.
The Ramsey Chair was established in honor of Dr. Frank Ramsey who served as the chair of the Department of Pathology from 1957-75.