Contacts
Dr. Tom Johnson, Lloyd Veterinary Medical Center, 515-306-1129
Dean Lisa K. Nolan, College of Veterinary Medicine, 515-294-9860
Tracy Ann Raef, Veterinary Communications, 515-294-4602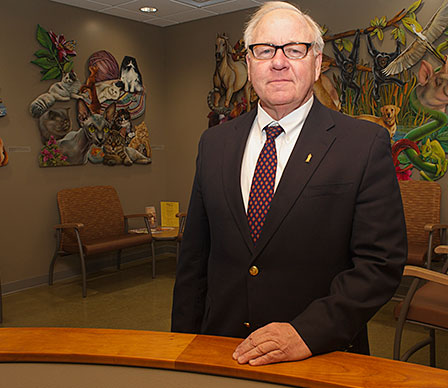 January 30, 2015
(Ames, Iowa) — Following a nationwide search, Dr. Tom J. Johnson has been named as the new Director of Hospital Operations at the Iowa State University Lloyd Veterinary Medical Center, effective Feb. 9, 2015. The LVMC includes the Hixson-Lied Small Animal Hospital, the Large Animal Hospital and Iowa Veterinary Specialties, an affiliated Des Moines emergency and specialty clinic.
As director, Dr. Johnson will oversee the daily and long-term operations of the Lloyd Veterinary Medical Center. Prior to joining the college, Dr. Johnson was the legislative liaison for the Iowa Veterinary Medical Association and served as its executive director for 12 years. His experience also includes 24 years as a private practitioner and practice owner in Spencer, Iowa.
Throughout his career, Dr. Johnson has held leadership roles in the American Veterinary Medical Association, American Society of Veterinary Medical Association Executives, and served as Executive Director of the American Association of Small Ruminant Practitioners. He has served on the advisory boards of the veterinary college, the ISU Veterinary Diagnostic Laboratory, the DMACC Veterinary Technicians Program, and as a member of the Clay County Civil Service Commission.
He is a 1971 graduate of ISU's College of Veterinary Medicine.
"Dr. Johnson is uniquely qualified to fill this key position and lead our veterinary hospital to excel in patient care, client satisfaction and veterinary education," said Dr. Lisa K. Nolan, dean of the College of Veterinary Medicine.  "His experience as a long time veterinary practitioner and practice owner, his leadership role in the IVMA, and his ongoing involvement with our college and hospitals make him a great choice to lead our efforts," said Dr. Nolan.  "Top that off with a lifelong passion for the college, and we have a leader who is ready and eager to join our faculty, staff and students in striving for excellence in all facets of veterinary medicine."
 "I am proud to be chosen for this position and look forward to being part of the tremendous group of dedicated professionals practicing in the outstanding facilities that make up the Veterinary Medical Center," said Dr. Johnson. "It is a great opportunity to give back in some small way to the university, college and profession that have done so much for me."