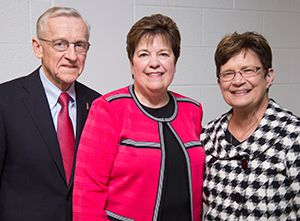 March 21, 2017
A new endowed professorship has been created in Iowa State University's College of Veterinary Medicine through a recent gift from Dr. Roger ('71) and Marilyn Mahr of St. Charles, Ill.
The Dr. Roger and Marilyn Mahr Professorship in One Health will further empower Iowa State University with visionary leadership to promote and help facilitate innovative multi-disciplinary collaboration that embraces the university's land grant mission. Iowa State was the nation's first land grant institution.
One Health is the collaborative effort of multiple health science professions and their related disciplines working locally, nationally and globally to attain optimal health for people, animals, plants and the environment.
Dr. Mahr, a small animal practitioner throughout his career, served as president of the American Veterinary Medical Association in 2006-07. During his presidency, he revealed a vision for a One Health Initiative, which the AVMA established in collaboration with the American Medical Association in 2007.
"Iowa State's land grant mission which focuses on collaborative education, research and outreach, is truly consistent with the One Health approach," Dr. Mahr said. "This professorship will inform all audiences, including students, faculty and researchers about the importance of transcending institutional and disciplinary boundaries and transform the way human, animal, plant and ecosystem health professionals work together to improve the health of all living things and the environment worldwide."
The Mahrs have long supported Iowa State's One Health initiative. The College of Veterinary Medicine One Health Lectureship Series was established in 2011 in honor of Dr. Mahr as he served as the chief executive officer of the One Health Commission, which was headquartered at Iowa State from 2011 through 2013.
"Throughout our married life, Roger and I have always worked as a team," Marilyn Mahr said. "It has been especially rewarding to promote One Health as we have traveled together throughout the country and world."
The Mahr Professorship in One Health will also coordinate Iowa State's One Health courses and training opportunities, promote and illustrate the importance and value of the One Health approach, and pursue innovative and entrepreneurial opportunities for Iowa State to lead, connect and engage in various One Health agendas.
"We are very appreciative of the generosity of Roger and Marilyn Mahr," said Dr. Lisa K. Nolan, the Stephen G. Juelsgaard Dean of Veterinary Medicine. "This professorship will continue to allow the College of Veterinary Medicine to be a leader in One Health initiatives around the globe."
The Mahrs gift supports the university's $1.1 billion comprehensive fundraising campaign, Forever True, For Iowa State.
Contact:
Dave Gieseke, Veterinary Medicine Communications, 515-294-4257, dgieseke@iastate.edu