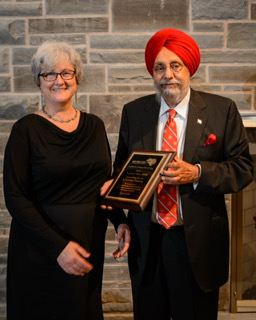 Iowa State University College of Veterinary Medicine's Director of Hospital Operations, Dr. Stephanie West was recognized by the New York State Veterinary Medical Society (NYSVMS) with the Outstanding Service to Veterinary Medicine Award. The award honors an individual who through his/her efforts in education, research, practice, or some veterinary-related occupation significantly contributed to the advancement and improvement of veterinary medicine in the state of New York. NYSVMS President Dr. Surinder Wadyal presented the award to Dr. West at the society's fall conference at Cornell University on Oct. 6, 2018.
Dr. West practiced veterinary medicine in New York for 28 years prior to joining Iowa State in April 2018. The awards ceremony highlighted her varied experience as a private veterinary practitioner with both large and small animals, a practice manager, a program director and associate professor of veterinary technology, and head of the Greater Buffalo Veterinary Services (GBVS) which runs an emergency clinic and local veterinary buying group. She received recognition as a Top Ten Finalist in the 2016 DVM360/VHMA Practice Manager of the Year contest for her work managing GBVS.
Dr. West supported the newest veterinary college, Lincoln Memorial University (LMU), in its Buffalo area teaching hub by connecting the GBVS emergency clinic as an affiliate practice, and working as a Clinical Course Director for its first graduating class. She co-created the Practice Management course taught at LMU's College of Veterinary Medicine which she helps teach as a yearly guest lecturer.
She was a Western Veterinary Conference Mentor for practice managers, and has also served as an unofficial mentor for numerous pre-veterinary and veterinary technology students. Dr. West is also a strong supporter of organized veterinary medicine, volunteering with media events, and having been a member of several veterinary-related boards of directors, including serving as president of the Western New York Veterinary Medical Association, the association that nominated Dr. West for the award.