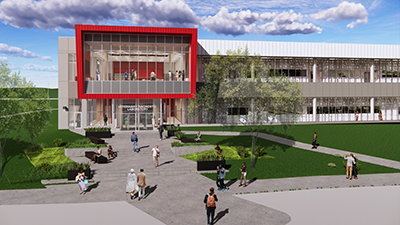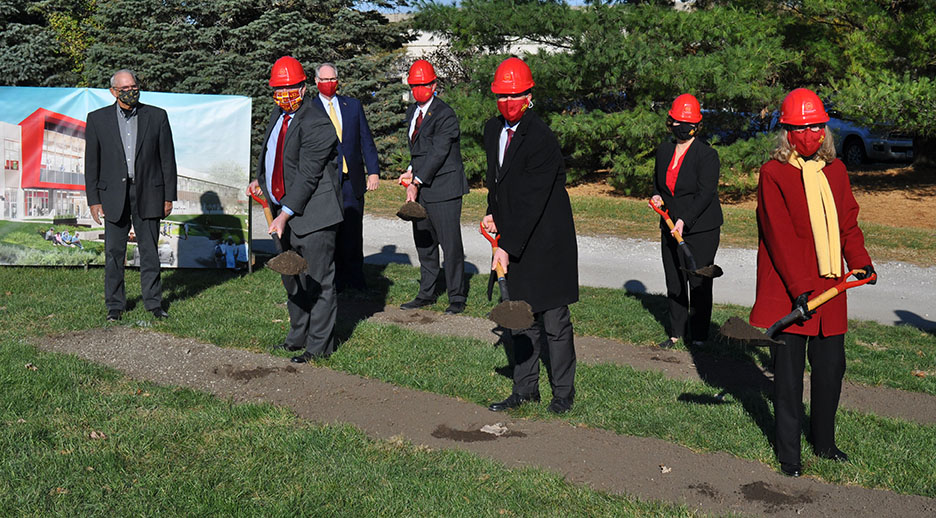 October 30, 2020
Iowa State University's College of Veterinary Medicine has long had a commitment to provide state-of-the-art diagnostic services in support of Iowa's $32.5 billion animal agriculture industry.
That commitment continued Friday, October 30, as groundbreaking ceremonies were held for the new Veterinary Diagnostic Laboratory on the vet med campus.
"Iowa's leadership position in production animal agriculture demands a world-class diagnostic laboratory to support it," wrote Iowa Governor Kim Reynolds in a statement read at the groundbreaking ceremony. "Our state's only full-service veterinary, diagnostic laboratory is a front-line defense in surveillance, response and eradication of animal diseases and a steadfast resource for livestock producers, animal health leaders, and veterinary professionals."
"Today is another step in the 140-year journey and commitment of the College of Veterinary Medicine and the Veterinary Diagnostic Laboratory to provide diagnostic services to serve in support of animal health and public health," said Dr. Dan Grooms, the Dr. Stephen G. Juelsgaard Dean of Veterinary Medicine.
The new VDL will provide essential infrastructure for sample receiving and processing, pathology, bacteriology, necropsy, histopathology and an incinerator. The new construction will improve efficiency and effectiveness of the process flow while addressing critical issues of space quantity and quality and provide the necessary biosafety and biocontainment.

The $75 million project has been funded by a $63.5 million appropriation from the State of Iowa with additional funding from the VDL, College of Veterinary Medicine, Iowa State University and private donors.
Lead gift commitments to the new VDL have been provided by the Iowa Pork Producers Association and the Iowa Farm Bureau Federation.
"The Veterinary Diagnostic Laboratory is a crown jewel for Iowa State University and for the entire state of Iowa," said Iowa State University President Wendy Wintersteen. "A long-time national leader in advancing animal health and food safety, the VDL has also leveraged its expertise to play a key role in the state's response to the COVID-19 pandemic. This new facility is critical for the VDL to continue providing innovative solutions and support to the complex and growing needs of animal and public health. We are deeply grateful to the state, our industry partners, and donors for their investments to make it possible."
The VDL has been a national leader in protecting animal and human health since it was established in 1947. Processing more than 100,000 submissions a year – and more than a million tests in total – the laboratory plays a key role in ensuring animal health, including wildlife and companion animals; public health; world food safety; and the competitiveness of Iowa's $32.5 billion animal agricultural industry.
The investment in the facility will greatly increase the state's diagnostic service and discovery capabilities for current and future generations of Iowa's livestock farmers. In addition, the new facility will help keep Iowa State at the forefront in discovery of emerging and re-emerging diseases, provide a rich caseload to teach future veterinary practitioners and make innovative discoveries regarding new methods to control and eradicate diseases.
"Whether it's developing and applying new cutting-edge diagnostic tests and strategies or identifying new emerging pathogens such as Porcine epidemic diarrhea virus, this lab has set the standard for innovation in diagnostic medicine," Grooms said. "I can only image what our extraordinary scientists and diagnosticians can do in the facility we are getting ready to build."
Construction is scheduled to begin in early 2021 with a scheduled 2023 opening. The Weitz Company of Des Moines and STRANG of Madison, Wisconsin, has been selected as the project's design build team.