There are a number of ways you can stay connected with the College of Veterinary Medicine.
Update Your Information
Send your new addresses, phone numbers, job titles and name changes to vetmeddev@iastate.edu.
Contact Classmates
College of Veterinary Medicine alumni who are members of the Iowa State University Alumni Association can access contact information for fellow alumni at the ISUAA website.
Meet Our Team
Dr. Pat Halbur
Dr. Stephen G. Juelsgaard Interim Dean
515-294-9860
pghalbur@iastate.edu
Dr. Patrick Halbur became the interim dean of the College of Veterinary Medicine on July 1, 2017. He has been a professor, administrator and researcher at Iowa State since 1990. Among his many roles at Iowa State, Dr. Halbur has served as the chair of the Department of Veterinary Diagnostic and Production Animal Medicine, executive director of the Veterinary Diagnostic Laboratory and interim associate dean for public services and outreach for the College of Veterinary Medicine.
---
Amy Kruzich
Executive Director of Development
515-294-8562
akruzich@foundation.iastate.edu

Amy Kruzich has been with the Iowa State University Foundation for 11 years, providing leadership to the regional development team before joining the College of Veterinary Medicine team in April 2015. Additionally, Amy has been the liaison to the Parks Library and the Honors program. Prior to joining the ISU Foundation, Amy was with the United Way of Central Iowa and the Central Iowa Young Women's Leadership Institute.
---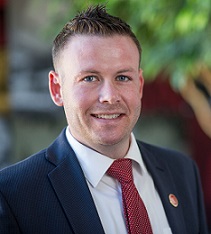 Trent Wellman
Director of Development
515-294-4675
twellman@foundation.iastate.edu
Trent Wellman has been with the Iowa State University Foundation since 2013. As a director of development for the College of Veterinary Medicine, Trent works personally with alumni, clients and friends whose gifts transform the lives of students across the college's five departments, two service units and six centers/institutes. He received his bachelor's degree from Iowa State University in 2006 and he is originally from Van Buren County in southeast Iowa.
---
Sarah Jungers
Assistant Director of Development for Grateful Clients
515-294-8716
sjungers@foundation.iastate.edu
Sarah Jungers works closely with Grateful Clients of the Lloyd Veterinary Medical Center, as well as friends alike, to guarantee that their gifts help improve the lives of the animals treated, enhance the equipment and technology used in the hospitals, and ensure faculty, staff, and students have the highest levels of training and knowledge available. Sarah has Bachelor's and Master's degrees in Business Administration with emphases on Health Administration from the University of South Dakota.  Coming from a long-term care hospital and school in Sioux Falls, South Dakota, Sarah joined the College of Veterinary Medicine's development team in April of 2014.
---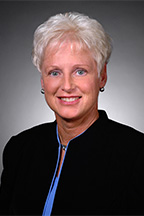 Bev Huisman
Development Coordinator
515-294-0867
bhuisman@foundation.iastate.edu
Bev Huisman has been with the Iowa State University Foundation for 12 years.  She plays a key role within the veterinary medicine development office as it relates to the management of the day-to-day operations, with the primary goal of enhancing the development team's ability to raise major gifts and steward donors who support the college.  Before coming to the College of Veterinary Medicine in January 2016 she provided support for Corporate and Foundation Relations, Leadership Gifts and the Regional Program.