Dr. Michelle Buckley and her guest fall into an easy banter as they discuss dairy goat production during the podcast. Not-too-long and not-too-short, the podcast, Baa's and Bleat's, moves at a lively pace with a large dose of easy-to-digest information.
Buckley, a post-doctorate in Veterinary Field Services under the mentorship of Dr. Pat Gorden, is the podcast's producer, host, editor, publisher, and marketer. It's a perfect fit for Buckley whose passion is education.
The podcast is part of the outreach component of a $1 million grant from the USDA-National Institute of Food and Agriculture to look at improving antibiotic stewardship in dairy goats to assure food safety and milk quality.
"Dairy goat production has steadily gained popularity, creating a demand for dairy goat veterinarians," Buckley said. "The podcast is geared toward small animal practitioners with clients who own hobby farms and large animal veterinarians who may get asked to look at the goats when they are on the farm. It's also for dairy producers who have or want to expand into goat production."
Born and raised in upstate New York, Buckley herself is a newcomer to dairy goat medicine. "I always wanted to become a veterinarian and thought I'd go into equine sports medicine. When I spent a summer at a dairy consortium in New Mexico, though, I fell in love with cows."
Buckley was a private practitioner in Southern California, when she "got lured back into academics with promises of goats and not having to get my own funding for projects." She's been working on the USDA grant for the past year, and recently tasked with the creation of a podcast.
"I had zero prior experience producing a podcast." Buckley learned fast and developed the framework for the 12-episode podcast during normally unproductive windshield time traveling to farms.
Buckley worked with the American Association of Small Ruminant Veterinarians, a podcast sponsor, to find guests who were knowledgeable and conversational "so things don't get too nerdy."
The lineup for topics includes episodes on the importance of animal identification, what do producers look for in a veterinarian, why owners don't have a regular vet, antimicrobial resistance, judicious use of pharmaceuticals on the farm.
While she had zero technical experience with podcasts, Buckley had lots of prior experience sharing the agriculture story. "My grandparents had a crop farm, and we'd sell the vegetables at the local farmer's market," Buckley said. "I talked to customers and explained how our farm works." Fast forward, Buckley was the supervising veterinarian at the Los Angeles County Fair which has the largest petting zoo in the country. "I really enjoyed talking to consumers, explaining how hard producers work to keep their food safe."
Buckley's focus during the podcasts is bridging the gap in knowledge for producers and veterinarians. "Producing the episodes has also been a great learning opportunity for me, interviewing experts in the field of dairy goat medicine."
The first podcast, The Accidental Dairy Vet, aired July 5. Each podcast is 45-60 minutes, and scheduled to release every other week, till December 2022. Listeners can find them on Apple Podcasts and Spotify.
August 2022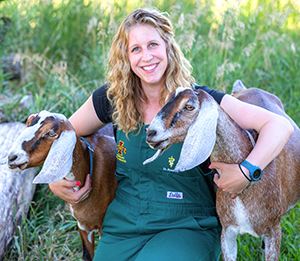 Photos: Christopher Gannon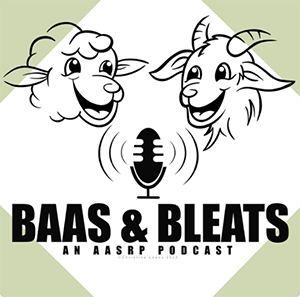 Listen to the podcast on Tuesdays on Apple Podcasts, Spotify and other major streaming services.