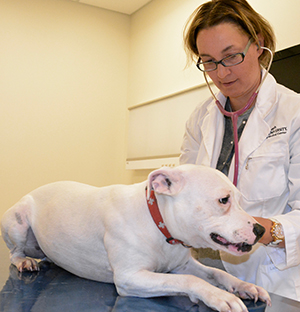 Dr. Agnes Bourgois-Mochel and her colleagues in the Clinical Trial Service at the Lloyd Veterinary Medical Center are always on the outlook for dogs and cats (and their owners) who are willing take part in a study.
It's not easy. At any one time, Iowa State will have up to 15 studies involving client-owned pets. Each of those studies typically needs up to 20 participants.
Some like a new clinical trial for dogs with chronic diarrhea can need twice the participants.
"We screen the daily appointments in the Lloyd Veterinary Medical Center to try and identify candidates," said Bourgois-Mochel who is a clinical assistant professor of veterinary clinical sciences and the coordinator of the Clinical Trials Service. "We also work closely with the clinicians in the hospital to remind them of our ongoing trials."
Clinical trials are studies that explore whether a procedure, treatment, diagnostic test or medical device is safe and effective. Trials help answer questions and the answers can benefit both animal and human health because many diseases are common to both.
One of the current ongoing studies is an industry-sponsored trial investigating the efficacy of Intesto-Guard in dogs with chronic diarrhea. The product is a binding protein which may reduce and control clinical signs of chronic diarrheal cases.
Dogs participating in the trial will come for three visits to the Lloyd Veterinary Medical Center over a six-week period. Each study participant will receive a credit off of their total bill after completing all three visits.
Getting clients and their animals to participate in some studies can be challenging.
"If the trial is only about collecting blood or another biological sample during a single visit that is happening anyway then it is usually very easy to get the owner's consent," Bourgois-Mochel said. "However, if the study involves additional visits specifically for the study or additional procedures then it can be more difficult.
"Generally, that depends on how far the owners live away from Ames, how willing they are to come back for several visits and how concerned they are about the additional procedures that may be required."
Participating in a clinical trial is important to help advance science although no participant can be guaranteed to get better with any tested medication or device.
"That is actually the purpose of the trial to prove or not to prove," Bourgois-Mochel said. "If the result of the trial is promising, then participating in the trial might help pets with similar condition in the future."
Visit the Clinical Trial Service website for more information and to view the active ongoing trials.
February 2021