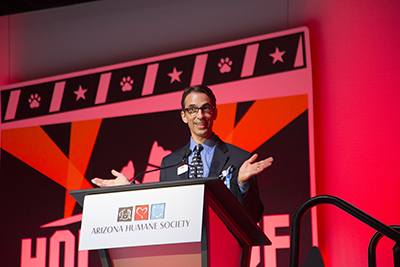 Bretta Nelson remembers the day when things changed at the Arizona Humane Society (AHS).
It was 2013 and Dr. Steven Hansen (DVM '85) had just been named the organization's president and chief executive officer. One of the first items on his agenda was to pull his leadership team together and lay out nearly a dozen new programs.
"He told us we were going to implement those programs, not today or tomorrow, but yesterday," said Nelson, AHS public relations manager. "All of these programs speak to an animal's welfare."
"It didn't take long to believe in his philosophy."
Since becoming the AHS president and CEO, Hansen has instituted several changes at the Phoenix-based organization.
The Mutternity Suites has been created as a quiet place for mothers to give birth with medical supervision. The Bottle Baby Kitten ICU is a 24-hour operation that helps care for newborn, orphaned kittens. The Parvo Puppy ICU annually sees a 90 percent success rate for the highly-contagious, often fatal, viral disease. These are pets who are routinely euthanized in other shelters around the country.
For pet owners, pet training classes are offered including cat behavior consultations and AHS' veterinary clinics provide affordable and accessible spay/neuter and wellness services. Pet Resource Center consists of bi-lingually trained professionals and a Resource Navigator dedicated to providing resources to pet owners. The creation of this service has helped decrease the number of pets surrendered to AHS by more than 50 percent over the past six years.
"More than half of the calls we receive are owners looking to surrender their pet," Hansen said. "We are dedicated to providing resources to pet owners to help keep pets in homes and help save lives."
Hansen oversees the massive organization that not only employees 280 but has more than 2,000 volunteers. It is not uncommon to find volunteers reading to injured dogs who are on medical rest as part of the organization's Resting Rover program.
The Second Chance Animal Trauma Hospital is the largest shelter-based trauma center for homeless animals in the Southwest and provides veterinary care for animals with nowhere else to turn.
"I honestly think I have the best job on the planet," Hansen says. "I've liked all my other jobs but here we get to do everything. Here we care for animals, many of whom wouldn't survive without the care we provide."
Last year, the AHS saw 11,250 animals adopted or returned to their owners. Another 11,500 owned and shelter pets were spayed or neutered. Close to 4,400 pets received in AHS Foster Hero homes. On average, animals spend less than a week on the AHS adoption floor.
"We're really good at adopting out pets," Hansen said, "but sometimes we have to look at creative ways to make sure our critters get adopted such as offering adoptable rabbits to elementary teachers for their classroom."
This program was created on the heels of an animal cruelty case in which AHS rescued more than 150 rabbits from horrific conditions.
Many times, the Arizona Humane Society sees the worst of the worst. They have what Hansen, who has long been an advocate for homeless, injured and neglected animals, calls "an awful life experience."
Each year, AHS' Animal Cruelty Investigators assist law enforcement on approximately 6,000 suspected cases on animal cruelty and AHS' Emergency Animal Medical Technicians or pet paramedics, rescue around 3,000.
Hansen came to AHS after spending 16 years with the American Society for the Prevention of Cruelty to Animals (ASPCA), as that organization's chief operating officer. After graduating from Iowa State he also served as the director of veterinary research for Wellmark International in Illinois while practicing in Houston and Chicago.
No matter the job, the welfare of animals has come first for Hansen.
"I'm always willing to try new things," he said. "The programs we've implemented here have significantly impacted the lives of more than 100,000 additional animals. We've got some very productive enrichment programs here and we work hard to make sure the animals are as comfortable as can be.
"This job is a big challenge, but in the end all I needed to do was institute new ideas and let my great team of veterinarians, staff and volunteers do what they do best."
May 2021