The Eyes Have It
Pet's Illness Solidifies Career Path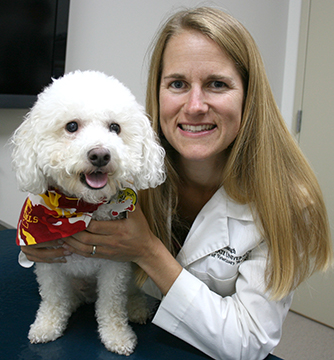 Mitty the kitty had a long life for a cat – 21 years to be exact.
But the impact she had on Dr. Rachel Allbaugh's life continues to be felt long after her death.
"I got Mitty when I was 10," the assistant professor of veterinary clinical sciences said, "and she had eye problems for years that nobody could figure out."
That was before Allbaugh became aware of how specialized veterinary medicine could be. While an undergraduate student at Iowa State University, Allbaugh was working at Jordan Creek Animal Hospital and learned that ophthalmology was an area that veterinarians could focus on.
"Mitty had dealt with eye problems for years and once I took her to a specialist, it was a matter of minutes and they had the problem diagnosed," Allbaugh recalled. "She lived to be 21 and we were able to treat her eye issues throughout her life."
At the time of Mitty's diagnosis, Allbaugh already knew she was going to be a veterinarian (actually since kindergarten). Her other childhood interest was becoming a jockey, but she outgrew that ambition by middle school. When she was a veterinary student at Iowa State, Allbaugh always seemed to gravitate to ophthalmology.
"Anytime anything eye-related came up in class my interest was piqued," she said.
She called her summer research project on the subject "very eye-opening."
"I began to appreciate the value of research," she said. "I loved to be able to investigate issues while seeking out answers in order to find out what was the best treatment option for my patients."
As an ophthalmologist in the Lloyd Veterinary Medical Center, Allbaugh sees patients of varying species. She says eyes of a dog and cat differ in minor ways but the basic structures are the same. As one of only 470 ophthalmology boarded veterinarians, Allbaugh not only relies on her own assessments, but on what the owner says is happening with their animal to make a final diagnosis.
"Ophthalmology is a little easier than other specialties in animal medicine because we can see what's happening directly," she said. "We can do more with a bare bones exam than many other specialties."
Allbaugh is good at what she does and has been honored several times recently for her work. In 2015, she was named the College of Veterinary Medicine's Faculty Member of the Year and was part of the college's Service Team of the Year Award recipients that same year.
And this fall, Allbaugh will receive the Iowa State University Alumni Association Outstanding Young Alumnus Award. The award is given annually to three individuals, age 40 and under, "who have excelled in their professions and provided service to their communities."
Allbaugh says she was shocked to get the award, but one of her fellow recipients came as a pleasant surprise.
"I'm still in disbelief that I would be honored in this way by my alma mater," she said, "but I wasn't surprised to see that Tina was also being recognized."
Tina is Christina Freese-Decker, who was Allbaugh's freshman year roommate in Iowa State's residence halls. Freese-Decker is now the president of Spectrum Health Hospital Group in Grand Rapids, Mich.
The two were roommates only their freshman year but have maintained contact since through the occasional note and Christmas card.
"Tina is very deserving of this honor," Allbaugh says. "She's really awesome!
"It's going to be really special being recognized at the same ceremony with the same award as she is."
October 2016