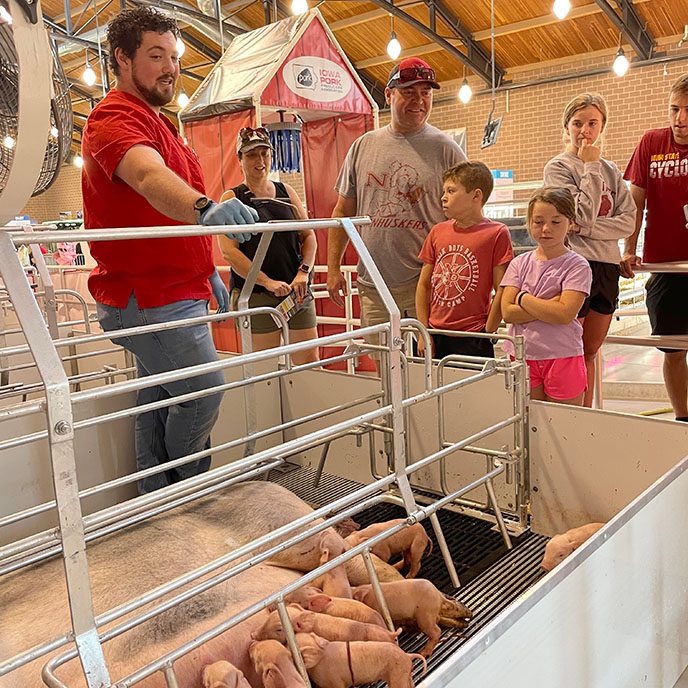 "Can you imagine having 13 other brothers and sisters?" Justin Hennessy, a fourth-year veterinary student, asked a young girl visiting the Animal Learning Center at the Iowa State Fair.
The only answer Hennessy gets is a big eye roll from the little girl.
"What surprises people the most is the number of pigs a sow can have," he said, "but there are always a lot of questions."
Hennessy, along with faculty and staff from the Swine Medicine Education Center (SMEC), provided the health and care of the eight pigs and their litters at the farrowing display at the state fair. They were assisted by FFA students from Central Iowa high schools and the exhibit is funded and staffed with volunteers from the Iowa Pork Producers Association. The sows are provided annually by AMVC.
SMEC has taken on a larger level of responsibility for the exhibit in recent years, not only caring for the health of the sows and the piglets born during the fair but interacting with more than 100,000 individuals who make their way through the Animal Learning Center.
For Hennessy, a day at the Iowa State Fair starts early and ends late. Some days he will help a sow deliver her litter. Other days, it is making sure the litter born the day before are provided with the best health care possible, checking on them every 30 minutes.
And then there are the questions. As the multitudes of visitors make it through the exhibit, Hennessy sits patiently while engaging with children and adults who have never seen a live pig.
It's something that comes naturally to him.
"I've been showing pigs since I was four years old, so I'm used to being at a fair," the Nebraska native said. "I've basically been in the classroom for three years, so it is a pleasure to be here.
"Any day I'm with pigs is great."
Hennessy is the first fourth-year veterinary student to do a swine rotation at the Iowa State Fair. He had previously worked with SMEC.
"I approached Drs. (Locke) Karriker and (Justin) Brown about the possibility of doing a rotation at the fair," Hennessy said, "and fortunately they said they could find a spot for me."
And even after the Iowa State Fair concluded, Hennessy moved onto another two-week rotation – this time at the Nebraska State Fair, working at the birthing center.
"I enjoy helping people learn about the swine industry and swine medicine," he said. "From day one (of the Iowa State Fair), this was by far the best rotation I've had, mainly because I get to work with pigs."
September 2023