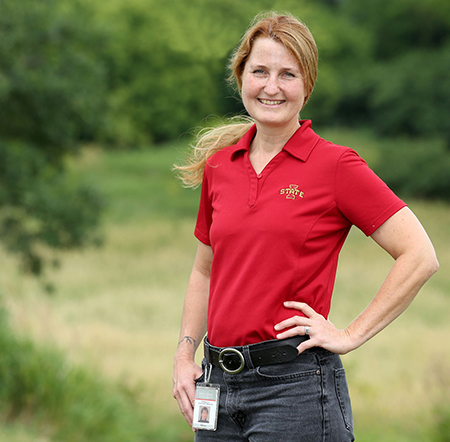 The American Veterinary Medical Association (AVMA) today honored Dr. Suzanne Millman, professor of veterinary diagnostics and production animal medicine and biomedical sciences, at the Iowa State University College of Veterinary Medicine, as the winner of the 2022 AVMA Humane Award.
The AVMA Humane Award is given annually during National Pet Week to a non-veterinarian to recognize achievement in advancing the welfare of animals through leadership, public service, education, research and product development, or advocacy. The recipient is selected by the AVMA Animal Welfare Committee. It is one of three Animal Welfare and Human-Animal Bond Excellence Awards presented annually by the AVMA and supported through educational funding from Merck Animal Health.
"It is a true honor to be nominated for the AVMA Humane Award, and to join the prestigious roster of recipients," said Millman. "I would like to acknowledge that this awards reflects efforts of numerous colleagues, students and animal caretakers who have helped me understand animal welfare and opportunities to strengthen it."
Millman has published more than 80 peer-reviewed journal articles on animal welfare, including ethical and scientific issues pertaining to animal welfare, and various aspects of animal behavior as a function of environmental conditions experienced by animals. Millman's work has been extremely influential in shaping scientific understanding of how agricultural animals express pain and distress, how we recognize it, and the importance of finding practical, affordable and effective ways of mitigating it. She has been instrumental in shaping agricultural animal producers' considerations of ill and injured animals, and the opportunities to manage, mitigate and avoid suffering in their animal care practices.
In addition to her research, Millman has delivered hundreds of presentations related to her scientific discoveries and is highly sought as an animal welfare advisor by multiple national and international organizations. Her outreach program targets tools for animal welfare assessment, particularly animal-based outcomes that can be measured practically and reliably in field or farm environments. She serves as a subject expert advisor to the World Organization for Animal Health Ad Hoc Groups on Animal Welfare and Chicken Layer Production Systems, United Egg Producers, and International Poultry Welfare Alliance, and serves an animal welfare advisor to HyLine International. Millman additionally serves as animal welfare advisor to the Iowa Pork Producers Association, Humane Farm Animal Care and Professional Animal Auditor Certification Organization.
In further testament to her influence on advancing humane conditions for animals, Millman has served as chair of the Iowa Veterinary Medical Association and chaired the Iowa Cruelty Response Task Force. Her collaboration on training programs developed in collaboration with the Iowa Veterinary Medical Association, Department of Agriculture and Land Stewardship, Iowa Federation of Humane Societies and Iowa Association of County Sheriffs and Deputies has been instrumental in improving the knowledge base of the respective professionals who benefit, and serves as a model for other states in illustrating the benefits of such partnerships on animal welfare education toward the goal of reducing animal suffering and enhancing public service.
Millman has also translated her skills in animal welfare assurance with livestock and poultry to the creation of an animal cruelty response service offered through the College of Veterinary Medicine. In so doing she has helped fill long-standing knowledge gaps for animal control officers and others who are often called on to investigate animal cruelty cases involving livestock species despite having little or no formal training on animal welfare assessment with these species. She has similarly enhanced veterinarians' efforts to support humane animal care by helping to create the Iowa Farm Animal Care Initiative, which works to prevent neglect in farmed animals and offers a hotline and response team to assist with concerns.
In addition to these activities, Millman has significant experience in developing animal welfare curriculum for veterinary students, including serving as co-chair of the AVMA Model Animal Welfare Curriculum Working Group. She teaches numerous courses on animal welfare, mentors graduate students and postdoctoral researchers and serves as coach to undergraduate, graduate, and veterinary students on the AVMA Intercollegiate Animal Welfare Judging Team. She also serves as advisor to ISU's College of Veterinary Medicine Animal Welfare Club and the ISU Student Chapter of the American Veterinary Society for Animal Behavior. Through these efforts, Millman contributes significantly to the veterinary profession's capacity to promote humane conditions for animals through enhanced knowledge and practice of animal welfare.
Previously, Millman was the recipient of the 2012 Pfizer Animal Health Award for Research Excellence and the 2016 Faculty Member of the Year Award in the College of Veterinary Medicine.
May 2022