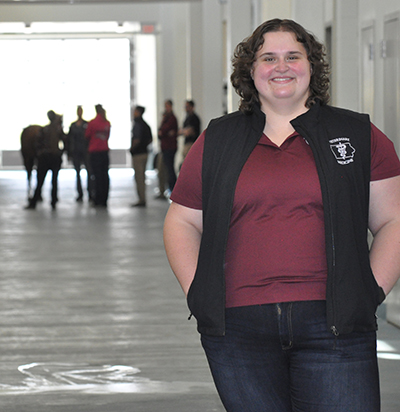 Just days into her first year as a veterinary medicine student at Iowa State University, Miranda Painter started experiencing a sharp stabbing feeling in her knee.
The pain got worse. Thinking it was a pinched nerve, Painter went to a chiropractor, but the treatments weren't effective.
As her first semester was winding down, Painter had a significant limp. She decided to make an appointment with an orthopedic surgeon to see what the problem was.
Turns out she had a growth on the bottom third of her femur.
"Within the week I had an appointment at Mayo and the PET Scan confirmed that the growth was most likely cancerous," Painter said.
Additional tests showed that Painter had stage 4 B Cell Non-Hodgkin's Lymphoma.
"I was very lucky that the cancer had bypassed my entire lymph system," Painter said. "The cancerous cells were only found in my knee."
Over the next several months, Painter endured countless biopsies, chemotherapy and radiation treatments, spinal taps, and PET scans. She rattles her treatments off like a baseball player would their hitting statistics.
She underwent her first chemo treatment just days before spring semester classes started and every three weeks after that. She lost her hair after her chemo treatments. You also must remember that Painter was diagnosed in the middle of the COVID-19 Pandemic.
And just months before she began classes in the College of Veterinary Medicine, Painter's mother passed after her own battle with cancer.
Nobody would have blamed Painter if she would have decided to put her career goals on hold and take care of herself. The thought probably never crossed her mind.
Instead, Painter plunged headfirst into her classes. She became a Student Ambassador, giving tours to prospective students in the College of Veterinary Medicine. She didn't even take summers off – instead staying in Ames and becoming a Summer Scholar working with the college's poultry medicine professors.
"All of my professors have been amazing to me," Painter said. "They have all been very willing to make things work so I could stay in school. Anywhere else I think I would have had to take a gap year."
Today Painter is in remission and says she is feeling fine. Although, she will admit that she is a different person than the one who entered vet school in August 2020. And it's not just that her hair grew back curly.
"If I don't do so well on an exam, I don't get upset like I used to," she said. "I don't panic and don't let the trivial things bother me.
"I have a new, more relaxed attitude."
Painter plans to take that new attitude with her when she graduates. Her eventual plans are to work in the poultry industry. But if that doesn't work out….
"If I can't get a job with chickens, I'll go work with pigs," Painter said. "Going through all I have these past few years, I've realized that you can't take things for granted."
December 2022