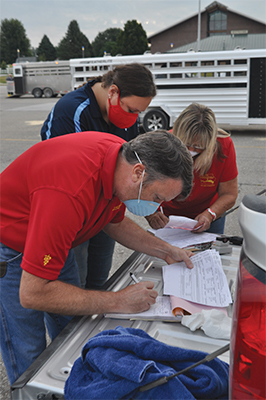 Before COVID-19 hit, Dr. Pat Gorden, associate professor of veterinary diagnostic and production animal medicine, had never listened to a podcast.
He may not be addicted to the podcasts today, but he is sure getting used to them.
"I'm listening to a lot more podcasts in the last few months," he said. "I was going out to farms by myself instead of going with several students. As I drove, I listened to podcasts."
Gorden, who serves as the director of Iowa State's Veterinary Field Services, says his solo trips to area farms is just one of the ways COVID-19 has affected the unit that provides individual animal and herd health services to producers in the Ames area.
In late March, the fourth-year veterinary students departed their rotations and the service's clinicians were on their own.
"While we had a contingency plan in place, we had to make a few adjustments," Gorden said. "We're sanitizing the building more, wiping down the trucks and we were only allowing one person in the vet truck at a time.
"Clients are no longer allowed in our building. We have also been consistently wearing a mask since none of us want to be the person to bring the disease onto our client farms and into this facility."
These adjustments to the service haven't affected the patients the clinicians see. Beef cattle and dairy cattle cases have remained steady. It's been pretty much "business as usual" according to Gorden.
In addition to treating area livestock, Gorden and his fellow field services veterinarians have been providing producers with information on how to protect their farms from COVID-19.
"The producers have a lot of questions," said Mitch Hiscocks, clinical professor of veterinary diagnostic and production animal medicine. "We try to tell them not to be afraid but to be respectful of the virus."
The most significant change has been working with this year's fourth-year veterinary students who started out their rotations with online courses. In early July, the fourth-year students returned to the college, but their rotations in field services have been adjusted.
Students and clinicians don't get together for daily rounds in the Field Services Building. Now rounds are held virtually through Zoom meetings. The number of students going out on calls has been reduced and multiple vehicles are used to get to the site.
The first few rotations were a learning curve for all of us," Gorden said. "We had to adopt policies as needed and make it work.
"I believe we did okay with online courses, but it's not the same as getting to treat an animal live and in person."
October 2020