Circuitous and Fortuitous
Dr. Lorraine Hoffman received safe career advice early in life.
She was completing her bachelor's degree in biology from a small, private Iowa college, where she was the only female pre-med student in her class. In the fall of 1964, she applied to medical school, but few women were accepted into medical school at the time and she learned that she wasn't chosen.
She was faced with a dilemma because she didn't have a backup plan.
During the second semester of her senior year, she took a microbiology class and shared he story with her professor, who gave her good mentoring advice: Pursue further education in an area of interest, watch for doors of opportunity, stay open to new passions and interests, and never give up on long-term goals.
She took his guidance and applied to graduate programs in microbiology and zoology, one of which was at Iowa State University. She was immediately accepted to Iowa State's department of bacteriology master's degree program and was offered a teaching assistantship.
In 1969, she married fellow graduate student Peter Hoffman, who had recently accepted a faculty position in the animal science department. Today, Lorraine is professor emeritus in the department of veterinary diagnostic and production animal medicine at Iowa State and is internationally recognized for her contributions in the field of diagnostic veterinary microbiology.
Hoffman described her professional journey as "circuitous and fortuitous."
"I had to redefine myself, develop skills and abilities I did not know I had and work hard to learn and grow into my career to be the best I could be," she said.
To be a life-long role model for others has been one of her greatest joys, which has continued into retirement.
"I feel blessed to share far greater insights, advice and empathy than what I received as a young female growing up in a small Iowa town at a time when girls were encouraged to explore and pursue specific career stereotypes or marry right out of high school," Hoffman said.
The Hoffmans are proud that they can help others on their road to higher education through the Drs. Lorraine J. Hoffman and M. Peter Hoffman Scholarship in Swine Production Medicine within the College of Veterinary Medicine, which they support through a portion of the resources made possible by their careers at Iowa State.
Today, she has advice for others who are considering their next step of giving and how to make an impact. It may sound familiar.
"You need to remember the opportunities afforded you along the way and think about how you can create an easier path for young people as they pursue their personal goals in areas for which you share a passion," Hoffman said. "Consider what has defined your career path and how you wish to make a difference."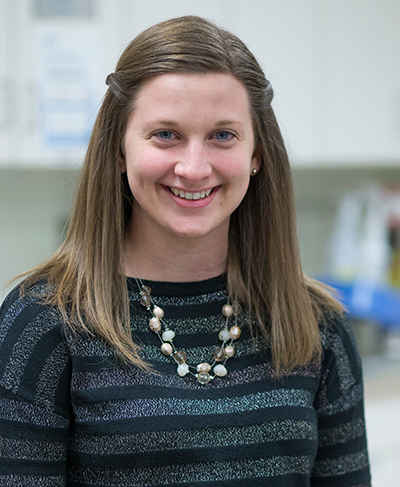 An Unexpected Mentorship
Walking through the halls of the College of Veterinary Medicine, Megan Nickel often heard of Drs. Lorraine and Peter Hoffman and the impact they had on the university and the careers of various faculty members.
Little did she know their paths would soon cross – and their mentorship would reach her life as well. Nickel grew up on a dairy farm near Theresa, Wisconsin, which sparked an enduring interest in working with animals.
She pursued a bachelor's degree in animal science from the University of Wisconsin-River Ralls. After receiving her degree in 2015, she applied to veterinary schools across the nation and was accepted into Iowa State's College of Veterinary Medicine.
It wasn't until she started at Iowa State that she was introduced to the swine industry through internships with the Swine Medicine Education Center and the Swine Veterinary Internship Program.
After receiving her veterinary degree in 2019, she decided to pursue a postdoctoral research associate position with the Swine Medicine Education Center, in addition to her studies as a doctoral student in population sciences in animal health.
As the inaugural recipient of the Drs. Lorraine J. Hoffman and M. Peter Hoffman Scholarship in Swine Production Medicine within the College of Veterinary Medicine, Nickel has been freed from financial worry as she continues her intense doctoral training and research.
"With the pandemic, I was fortunate enough to meet Lorraine via Zoom, and she shared her career path and insights with me," Nickel said. "I noted many similarities between our personal and professional lives in just that first meeting. I look forward to meeting Lorraine and Peter in person and having them as mentors in my life. Their generosity and continued commitment to students is remarkable and likely has a wider impact than they know."
Articles courtesy of the Iowa State University Foundation
December 2020