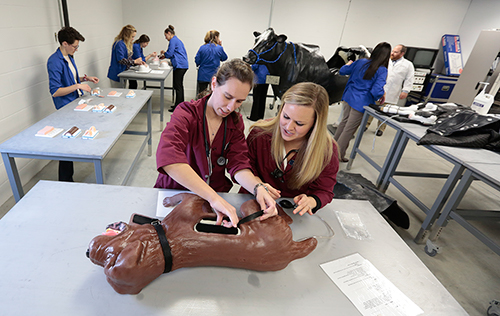 Practice Makes Perfect
Dr. Frank Cerfogli can almost predict the response of every veterinarian that walks through the doors of the Clinical Skills Laboratory in the College of Veterinary Medicine.

"They get to see the simulators that we have and every practitioner, every alumnus will say 'it would have been nice to have this when we were in school' or 'I wish I could have gotten my hands on that before my first day on the job,'" said Cerfogli, the laboratory's director. "That's the response every time we give a tour."
And to Cerfogli's ears there can't be a better measure of success than that.

The Clinical Skills Laboratory was created to provide opportunities for students to become more confident about any number of procedures. It solves an age-old dilemma on having student veterinarians gain experience in the profession before treating a live animal for the very first time.
Designed for students to refine a variety of clinical and technical skills, students can perform physical examinations, surgical and anesthetic procedures, catheter placement and venipuncture on models and simulators.
The lab provides a safe, low-risk environment for students to improve their competency in any one area while supporting self-directed and mentored learning, as well as organized labs utilizing medical simulators and models.
Some of the features already available to students include:
An equine head/neck simulator provides students with vascular access to practice blood draws from the jugular vein and facial sinus, There is a similar alpaca head and neck model;
Canine foreleg vascular access simulators allow students to practice IV catheter placement and venipuncture of the cephalic vein. There is similar alpaca head and neck model;
Students can practice suture placement and various suture patterns on simulated skin pads;
Computer simulators have real-time anesthesia simulations requiring correction of patient abnormalities.
Then there is "Frosty." The life-size Holstein dystocia simulator comes with a fully articulated 70-pound calf and working udder. "Frosty" dominates the Clinical Skills Lab and will give birth thousands of times in her lifetime, all while not creating any risk to students, the cow or the calf.
"Through models like Frosty we can make better practice situations for our students," Cerfogli said. "Practice makes perfect but with the Clinical Skills Laboratory we aim to make even better practice with better ultimate results."
Frosty now has company. A full-size equine palpation/colic simulator will provide students with even more opportunities. And that isn't all.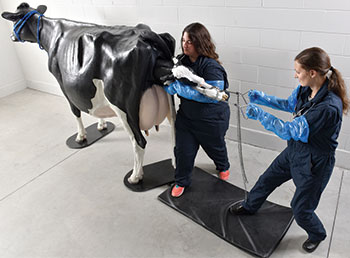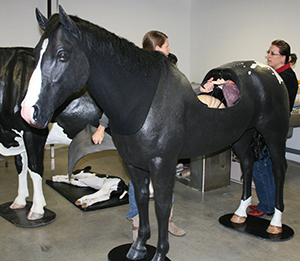 Additional models have been recently added to the Clinical Skills Laboratory including:
Equine neck venipuncture and equine GI tract and belly tap;
Bovine theriogenology model with palpable reproductive tracts;
Swine euthanasia models;
Canine spay simulators.
Cerfogli says Iowa State veterinary students start using these models in their first year. By instituting that change in the curriculum, students not only start practicing procedures sooner, but are able to break bad habits well before they make it to their fourth year rotations.
"By working in the Clinical Skills Laboratory, students are able to build their confidence and reduce their anxiety," Cerfogli said. "That will result in better results for their patients."
And according to Iowa State students, that experience is invaluable.
 "I didn't have a lot of bovine experience so the cow model is a great way for me to learn," said Jennifer Ruff, a third-year veterinary student. "The model also has a pelvic bone model so you can actually feel the bone structure, making it a lot easier for me to figure out how to work around that.
"We (veterinary students) have so much enthusiasm. We all want to touch live animals. But this is a great way to channel our enthusiasm and not be scared to do these procedures."  
August 2016