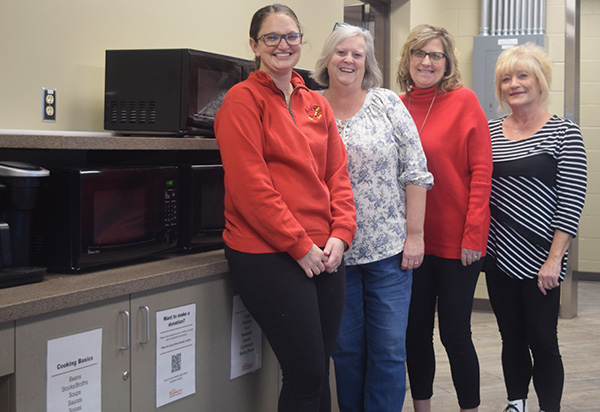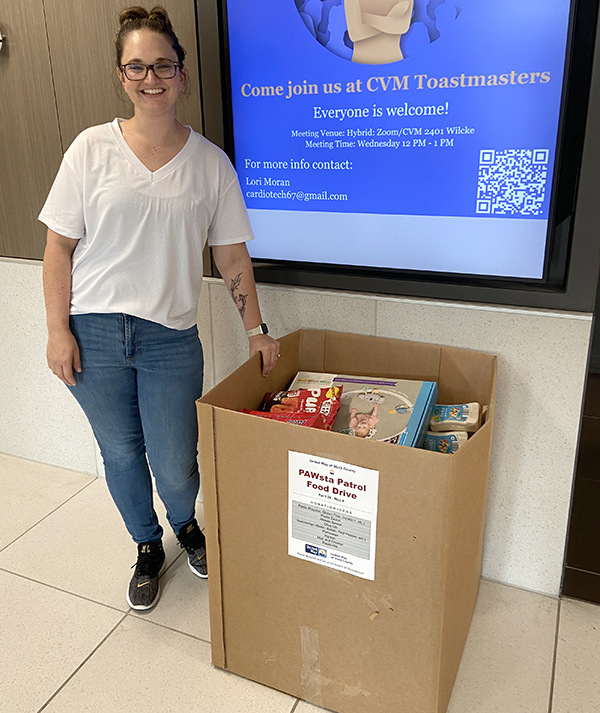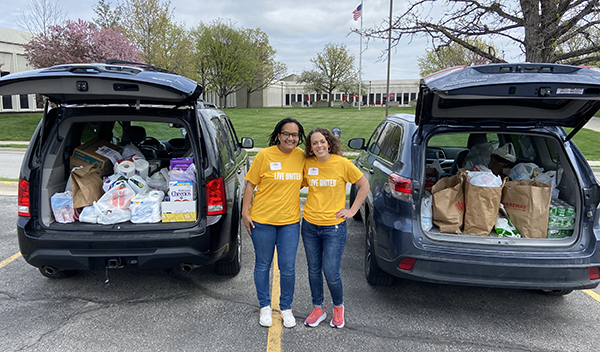 Combatting Food Insecurity
It was just a run-of-the-mill meeting in the College of Veterinary Medicine.
Then a group of staff members started to pitch an idea they felt was needed for the college community.
"They talked about the food insecurity some of our students, faculty and staff were experiencing," said Lisa Lund, manager of information technology support. "I knew there was a need and that I definitely wanted to help."
From that simple presentation, Lund and a group of College of Veterinary Medicine staff members have made Bone Appetit, the 24/7 food pantry a reality. Bone Appetit is available for anyone in the CVM community to use with the motto of, "Take what you need, use what you take."
The food pantry is made possible by donations from the CVM community with non-perishable food items, personal hygiene, baby, and pet items made available. Donations have also been made to the food pantry from outside the college including local churches and the United Way.
Lund's involvement comes naturally to her. She comes from a self-described "service family." In addition to the food pantry's creators, DeNae Foster, Melody Gustafson, Mindy Schminke, and Lisa Sebring, Lund spends several hours a week, sorting and stocking the food pantry.
"We all really care about student health and wellbeing," Lund said. "You get to know the students really well in the College and if we can play a small part in their education by providing this service, it really means a lot to us.
"We all want to find a way to help them succeed."
Personally, Lund can point not only to her family background but the help she received when she was fighting cancer in 2020.
"I had a ton of people from the College help me and my family out," the cancer survivor said. "That experience has helped push me to help people and give back to the community. This is the perfect project for me."
While Bone Appetit wasn't Lund's idea, she is definitely the driving force behind its success. The food pantry was launched late in the 2022 fall semester and since then, more than 300 pounds of non-perishable food and other items have been distributed to the CVM community.
Lund says the most popular items are macaroni and cheese, soup, and canned fruit.
"I knew the food pantry would be popular, but it has been more successful than I imagined," she said. "It's been overwhelming in a good way."
Lund and her colleagues are always thinking of new things to add in the food pantry. A Farmer's Market was added early in the fall semester with faculty and staff will bringing in items from their gardens.
The food pantry will also be expanding its inventory to include items that meet individuals' dietary needs including gluten free, high protein and non-dairy products. Reusable grocery bags with the Bone Appetit logo will be produced.
"There's always room to grow," Lund said. "The sky's the limit!"
May 2023