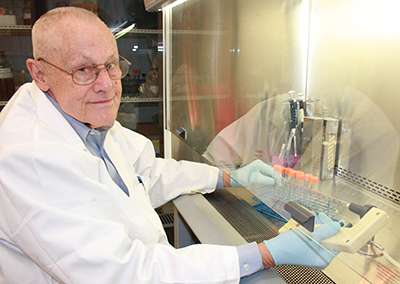 Back as a Researcher
When Dr. Richard Ross retired from the College of Veterinary Medicine in 2004 he really retired.
"I really didn't miss the work," said Ross, who worked in the college from 1959 to 2004. "I have a lot of interests. We traveled. I became interested in my family's genealogy and we have grandchildren to visit."
But when you have one of the world's foremost authorities on mycoplasmal diseases in your backyard, it's hard not to ask him to return and do a little work in retirement.
That's just what the College of Veterinary Medicine did in 2014 and Dick Ross has been a familiar site in the college's hallways in the years since. He and his wife Karen have homes in Ames and California where they travel to visit their son and his family.
"I'm trying to balance retirement with my work in the college," Ross said. "We do run back and forth to California frequently though."
These days, Ross continues to work on mycoplasmal diseases, a major cause of respiratory disease. His research has had a significant impact on the understanding of mycoplasmal infections in animals and humans. It is estimated his research in this area has significantly reduced U.S. swine producer economic losses by millions annually.
And despite not working in the field for the first 10 years of his retirement, Ross says he picked right back up where he left off.
"I've done this over and over so many times, it's become routine," he said.
Ross says mycoplasmas remain a problem in the field and there is a continued need for additional research. It's a primary reason why he's still interested in the field.
"One thing keeps me going and it's that problems keep coming back," he said. "There's no perfect vaccine that will solve these problems."
"The staying power of the diseases keep coming up. Because of that, it keeps me motivated to use what I know to go to the next step to solve the problem."
Ross has always been a problem solver. His vision for veterinary medicine and agriculture along with his unique leadership skills led him to serve as dean not only of the College of Veterinary Medicine but Iowa State University's College of Agriculture and Life Sciences. In fact, he held both appointments concurrently for eight months.
His work with the Iowa State Legislature resulted in the Healthy Livestock Initiative, which ultimately provided funding for creation of the Department of Veterinary Diagnostic and Production Animal Medicine in the College of Veterinary Medicine. And under his leadership, Iowa State built the Livestock Infectious Disease Isolation Facility which positioned the university to lead the nation in research in this area.
Not surprisingly, Ross has received countless awards including the Award for Personal and Professional Excellence from the U.S. Secretary of Agriculture, the highest award given to a private citizen by the USDA.
And in October, the College of Veterinary Medicine recognized Ross with its highest alumni award – the Stange Award for Meritorious Service.
Ross doesn't have a firm deadline when he will "retire" for the second time. Ever the researcher, he is looking to "resolve one problem before I leave for good."
November 2017