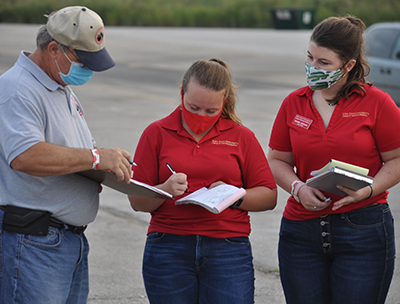 Each year, the Veterinary Field Services provides veterinary care for animals at the Iowa State Fair.
But as we all know, 2020 isn't a normal year. "The livestock shows were vastly different this year thanks to COVID-19," said Dr. Rachel Friedrich, clinical assistant professor of veterinary diagnostic and production animal medicine. "There were no open class shows, no animals from out of state were present and some of the shows were cancelled altogether, like the FFA carcass contests."
Still the state 4-H and FFA shows went on over three, 3-day weekends and Veterinary Field Services once again provided care for the animals while they were at the fairgrounds this summer.

"We still provided treatments for animals as needed during these shows," Friedrich said "including 24-hour care while animals were on site."
The unit, which included four fourth-year veterinary students and other student volunteers, supported Iowa's State Veterinarian's office with animal check-ins. Even that was different this year with one swine health check-in located where the Ferris Wheel and other Midway rides and games are usually housed. In addition, the students were responsible for collecting samples for drug testing as directed by the state fair competitive events staff.
While many things were different, the basic animal care remained the same.
"On this rotation we were responsible for diagnosing and treating any and all animals on the fairgrounds," said Annika Johnson, one of the fourth-year veterinary students on this rotation. "I was given the opportunity to work up my own cases and develop treatment plans under the guidance of the field service vets."
For another fourth-year student Rachel Stika, one of the duties that attracted her to the rotation was providing medical care to the animals.
"We traveled around the barns and grounds making veterinary calls to animals who are injured or ill," Stika said. "We were able to enhance our physical examination skills and client communication while working on a diagnosis and treatment plans.
"The great thing is that we get to see a variety of species and clinical presentations all in a short amount of time."
Friedrich and the rest of the Veterinary Field Services clinician team had to make adjustments due to COVID-19 precautions and various schedule changes. Those adjustments were disappointing to Iowa natives Stika and Johnson, both long-time Fair attendees.
"I was bummed that I didn't get to work the fair in its full glory but I'm making the best of it," Johnson said. "The alternative would have been worse had the shows been cancelled, so I'm glad I got some experience and good fair stories to tell."
Stika said while she didn't get the typical Iowa State Fair experience, the time she spent on the fairgrounds was worthwhile. "After this rotation, I feel much more confident in my physical examination of different species and client communication skills which will give me the advantage when I start my career," she said.
August 2020