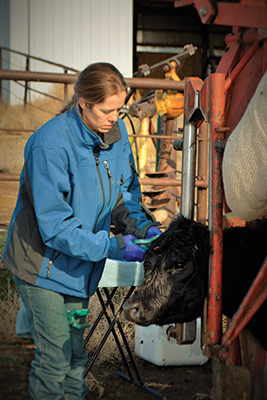 Extolling Rural Practices
Rural veterinary practices aren't for everyone. Dr. Erica Koller knows that.
Still, the 2007 College of Veterinary Medicine graduate actively promotes the idea of practicing in underserved areas such as her hometown of Edgemont, South Dakota. Koller's passion for rural veterinary medicine has evolved into an externship program for veterinary students to experience rural practice settings.
"It has become a passion and love of mine to host students from veterinary schools all over the country," Koller said. "I love teaching hands-on approaches to veterinary medicine that combines trusted "aged-old" remedies with modern medicine."
Koller is a native of Edgemont, born and raised in the rural area south of Rapid City. Even though she did her undergraduate work on the other side of the state at South Dakota State University and completed her DVM at Iowa State, Koller always knew she would head back home.
Her dad is a third-generation rancher and it seemed nature for her to return home. Now she encourages students from across the country to spend a few weeks in Edgemont at the Cheyenne River Animal Hospital to learn more about rural veterinary practices.
"I loved the value of the people back home," she said, "and I wanted to help producers."
Koller's clinic is a mixed-animal practice that focuses on beef cattle. She estimates about 75 percent of her time is spent with cows, seeing between 30 and 800 head in a single day.
Koller is one of three veterinarians in the Cheyenne River Animal Hospital and their practice not only encompasses western South Dakota, but also portions of Wyoming and Nebraska. Her association with the hospital dates back to high school when she job shadowed the clinic's veterinarian. Soon after Koller joined the practice several vets in the area retired, closing their clinics. "We ended up serving a lot more clients and seeing a more work than we didn't have before," she said.
Needing additional help, Koller decided to start offering the externship program. Soon students from across the country were traveling to Edgemont.
"I felt we were in a really good place to start offering externships," she said. "We were younger veterinarians. We had good equipment but we realized there wasn't a lot of interest in new graduates going out into rural settings. "Honestly even when I graduated it was tough," Koller continued. "As a new graduate you wonder what a rural clinic could offer and how you can make a living."
Some of that comes from the lack of medical equipment a rural clinic would have on hand. "I tell the students, 'Don't give up just because you don't have a CT scan or a client won't drive five hours to the nearest one,'" she said. "They should use what they have and the people you know to do the next best thing."
The externship program soon paid off for Koller and her clinic. Two students, who participated in the externship program, joined the practice after graduation. Another participant, Suzie Button (DVM 2018) accepted a job in another rural setting.
And last fall, the South Dakota Veterinary Medical Association honored Koller with their Emerging Leader Award for the externship program.
"At first we were nervous about bringing individuals out to this rural environment," she said, "but we've been pleasantly surprised. The students may not have had large animal experience but they have a passion about working in a rural clinic."
The students stay with Koller and the other veterinarians' families by design and necessity – Edgemont's population is only 900. The externs attend the town's pot luck dinners and go to local high school football games.
"We want them to see the full lifestyle, how we involve our families and how we prioritize our work-life satisfaction," Koller said.
March 2019