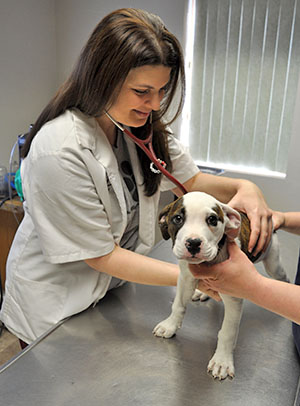 Dr. Janessa Butterfield doesn't hold back when she talks about her career.
"Private practice just wasn't my thing," the 2008 graduate said. "Day in, day out, it was a lot of vaccinations and ear infections."
But since she became the lead veterinarian at the Animal Protection and Education Charity in Boone, Iowa, Butterfield has found her calling.
"I really like the independence and flexibility this job gives me," she said. "I love doing surgery and I do a lot of surgeries here.
"We see so many different things yet I still have the opportunity to interact with clients. I love that we are providing a needed service to the community."
The Animal Protection and Education Charity serves Boone County and the surrounding area.
The mobile clinic provides a wide variety of services which include spay/neuter services, vaccinations and microchip clinics.
And the cost for the services are reduced.
"One of the things I ran into a lot when in private practice was people didn't have the finances to seek routine, preventative care for their pets and this facility offers that," Butterfield said.
On a given day, Butterfield will do up to 30 spays and neuters on cats and dogs while also performing some soft tissue surgeries. The charity also offers reduced cost vaccine clinics every other Saturday which includes microchipping the animal.
"At our reduced cost, there is no reason why people can't do this," Butterfield said. "This is why we stay busy."
The Animal Protection and Education Charity is also Iowa's largest provider of TNR (trap, neuter and return) of feral cats. Butterfield says several Iowa communities have large feral cat populations. Volunteers bait and set the traps after which the cats are brought to the clinic. There Butterfield will spay or neuter, insert a microchip and administer vaccines and address other health issues the cats may have.
"We then send them back out to the communities they come from," she said.
Regardless if she is conducting a vaccination clinic or spaying or neutering a feral cat, Butterfield says she is in the perfect job for her.
"It's everything I thought it would be," she said. "I like it so much. I look forward to coming to work and never go home disappointed.
"I was actively seeking a niche in veterinary medicine that fit me and this job is it."
March 2020