Just Keep Swimming
A fixture in the College of Veterinary Medicine has received an upgrade.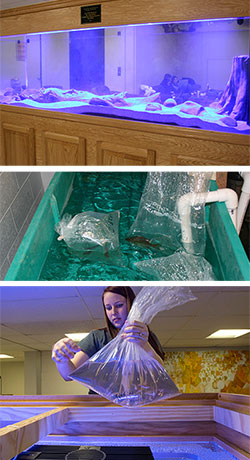 A new aquarium dominates the aptly named Fish Tank Lobby in the college, replacing an aging structure that had been previously in the area for the past several decades.
The 350-gallon fish tank is double the size of the old aquarium. Throw in a 200-gallon sump tank and that's a lot of additional water.
The aquarium is filled with 175 freshwater fish with 18 schooling fish species represented.
"We did get a variety of different species that will live in different parts of the tank," said Samantha Ford, president of the Aquatic Animal Medicine Club. "Some will even live in the sand."
The new fish are all native U.S. species, with a majority being Mississippi River fish. The largest fish should grow to between six and eight inches when it reaches adulthood. While the aquarium's filters will keep the tank clean, Ford says the Aquatic Animal Medicine Club will need to feed the fish daily and regularly test the water.
Fourth-year student Adam Crumpton worked with a Florida company to pick out the new fish. Crumpton has previously worked with the Shedd Aquarium in Chicago.
"We have worked hard to make sure that we have not only fish that will get along, but by putting them into the aquarium at the same time they won't develop territories," Ford said.
The fish were shipped from an East Coast company and were transferred from their temporary baggie water home to the aquarium after a brief stay in the sump tank to acclimate them to their new water temperature. The Aquatic Animal Medicine Club then darkened the aquarium for the next several days to allow the fish some time on their own before students, faculty and staff could start viewing them.
"By blocking the aquarium off, the fish will have the opportunity to acclimate to their new surroundings and won't have the stress of people staring at them," Ford said.
Funding for the new Fish Tank has been provided by SCAVMA, Dr. Peter Bashara (DVM '97), Dr. James Roth, Distinguished Professor of veterinary microbiology and preventive medicine; and the College of Veterinary Medicine. AquaIllumination of Ames donated the lights for the tank.
March 2016